The Insanity of 'Unsane' Shows That iPhones Are the Future of Movies
"Get a script and an iPhone and start shooting."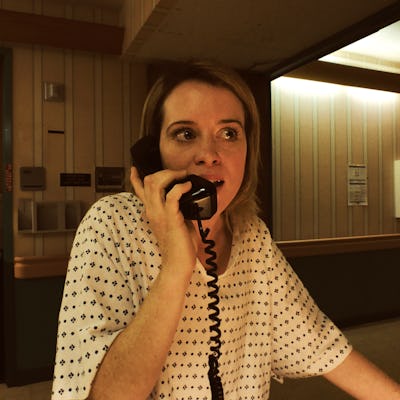 Fingerprint Releasing / Bleecker Street
Unsane, director Steven Soderbergh's compelling new thriller about a young woman who's being held against her will at a mental health facility, isn't the first feature-length film that was shot entirely on an iPhone; that distinction goes to 2015's critically praised Tangerine.
But the movie, which stars Claire Foy (The Crown) and opens in wide release on Friday, shows just how technically capable video has become since Sean Baker made Tangerine with three iPhone 5s models in early 2014. Crucially, Unsane continues the democratization of filmmaking. Apple iPhones aren't cheap, but you don't need to max out your credit card for cameras. And Unsane may nudge traditionalists to considering what a phone can do when an Oscar-winning director uses one.
The three years that passed between Tangerine and Unsane saw even better camera tech released by Apple. At each new iPhone event, CEO Tim Cook and his fellow Apple executives often open their presentations by showing off the phone's improved camera tech — their marketing savvy is just as sharp as their technical ingenuity. People want better cameras, and filmmakers have made use of them in increasingly ambitious style. But they often don't use a stock iPhone, as Soderbergh revealed ahead of the release of Unsane.
To shoot Unsane, Soderbergh used three iPhone 7 Plus phones, outfitted with three Moment lenses (18mm, 60mm, and a fisheye). On occasion, he used the phone's standard lens. The 4K resolution is close enough to a film camera in all its 4,000 glorious, horizontal pixels that there's no difference on the big screen.
"I looked at it as the future."
— Steven Soderbergh on using iPhones to shoot Unsane.
That big screen picture opens with the English Foy, adopting an American accent that is at times Dorchester and at others Savannah, as Sawyer Valentini, a banker with rough edges who's leading the messy life familiar to any young person. She's clearly working through some mental illness, and a visit to a therapist at a mental health care facility ends with her signing papers that unwittingly see her committed.
Sawyer's 24-hour stay is extended to seven days, and all the while Soderbergh — directing from Jonathan Bernstein and James Greer's script — keeps viewers guessing as to Foy's mental state, and if her stalker, David Strine (played by Joshua Leonard), has really taken up a job at the facility — or if it's all in her head. Other patients there, like Jay Pharoah's Nate Hoffman, offer her guidance, but we're left wondering about their motivations. Juno Temple, nearly indistinguishable with cornrows, plays Sawyer's obviously disturbed antagonist.
Time moves slowly as Sawyer tries to come to grips with her situation and secretly calls her mother (Amy Irving) for help. The film's cathartic final scenes reveal answers to the questions you'll wonder about during the movie's first hour, culminating in a scene set in the padded room of a solitary confinement ward in the basement.
To record these intimate, sometimes distorted scenes, Soderbergh used the $15 video app FiLMiC Pro, also used by Baker to shoot Tangerine. Soderbergh also used the $10 FiLMiC Remote app, which allowed him to view the video being shot from one phone on a different phone, if the shooting phone was positioned so that the screen wasn't easily viewable (like if it was on the floor).
"We have seen pictures in articles showing him shooting with FiLMiC Pro, and this is one of the highpoints in the journey of our company," Neill Barham, CEO of the Seattle-based FiLMiC, tells Inverse, adding that the app has "seen exponential growth in the last few years as the mobile filmmaking trend has exploded."
Shot in secret primarily with Foy, Leonard (the actor-director's resume is long, but just know he was in The Blair Witch Project), and Pharoah, the movie's largely set at an unused hospital.
"There wasn't enough money to modify the location in any significant way, including painting it," Soderbergh says. "The good news was that there turned out to be an interesting, unusual palette existing in the hospital. This facility had such a distinctive approach to its walls and wallpaper, as if research had been done into a color scheme that would 'relax' people. I liked the fact that it wasn't a typical scary locale, but the reality of this facility made for a strange place for us to be in — which totally worked for our movie."
The film shows off the iPhone's ability to capture light and warmth in this creepy hospital, and motion when things go awry.
"I think this is the future," Soderbergh said at the Sundance Film Festival in January. "Anybody going to see [Unsane] who has no idea of the backstory to the production will have no idea this was shot on the phone. That's not part of the conceit."
In the production notes, Soderbergh said it was inevitable he'd ditch the film camera. "I've been experimenting for years with this equipment, with these phones and with the lenses that are available to put onto these phones," he says. "I looked at it as the future."
All the equipment used to film Unsane could fit in a backpack, which quickened the pace during the June 2017 shoot.
"Part of the pain in the ass about making films is how much time it takes between creative impulse and the execution," Leonard tells Inverse. "Anything that reduces that amount of time so you can get an impulse on screen is fantastic, and I think that's really what this kind of technology is allowing us to do."
Not everyone knew the movie was going to be shot on an iPhone, though.
"I found out when I was on set and I saw him sitting in a chair, and I was like, 'Yo, where's the camera?'" Pharoah tells Inverse. "It was a surprise for me; I didn't know. Y'all knew, I didn't know."
A movie like Unsane — with its close-up shots so intimate viewers may feel some mental osmosis coming off Foy's character — feels suited to the setup of an iPhone. It may not work for all movies, says Leonard.
"I don't think we're ever going to be at the point where we're shooting Dunkirk on an iPhone," he tells Inverse. "And I don't think we should be, but in terms of accessibility, it really opens the doors and there's a lot fewer excuses to sit at home as opposed to going out and making a movie."
When asked for advice on how to make a movie during a Reddit AMA in August 2017 ahead of the release of his caper Logan Lucky, Soderbergh offered this DIY recommendation: "Get a script and an iPhone and start shooting. Seriously."
At this point, Soderbergh had already taken his own advice.
Unsane opens in theaters on March 23.