Maryland School Shooting Brings Number to 18 in 2018
Campus shootings continue amid student protests.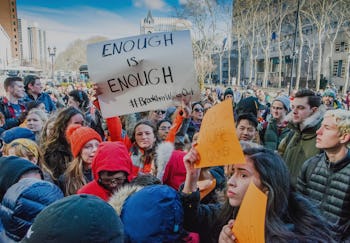 Flickr / j_bary
Another school shooting this week, this time at a Maryland high school, has brought the total to a whopping 18 so far this year.
While the shooting was reported to be "contained," several students and a campus officer have sustained injuries and are in critical condition. The Great Mills high school campus was on lockdown while the authorities assessed the scene. This incident brings the national tally up to 18 in 2018 alone, according to Everytown for Gun Safety, which tracks school shootings across the country.
While the aforementioned statistics can be misleading, as "shootings" include suicidal attempts and accidental shots fired, the number is still alarming. After all, we are still less than three months into 2018, which brings the average to almost three shootings per week.
Everytown states it uses a fairly "straightforward" definition of what constitutes a school shooting. "Any time a firearm discharges a live round inside or into a school building or on or onto a school campus or grounds, as documented by the press and, when necessary, confirmed through further inquiries with law enforcement or school officials," the organization says on its site. This definition is what blankets non-mass shootings.
The latest school shooting in Maryland comes as protests for gun control erupt across the country. This month, Parkland, Florida students and their supporters have mobilized to get politicians to push for better gun control laws to reduce school violence, via their #NeverAgain movement. Their March for Our Lives demonstration will take place in the nation's capital on March 24.
As more attention is placed on young lives being put at risk, the tally of campus shootings will likely be closely watched in the coming months.