Ivanka Trump Accused of "Cosplaying" as Scientist in Bizarre Photo
Who says you can't LARP in the lab?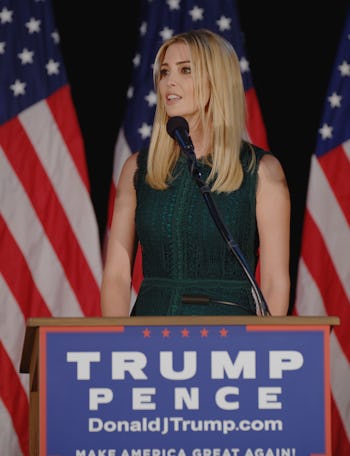 Wikimedia / WClarke
Clad in a lab coat and safety goggles, White House senior advisor and apparent infrastructure expert Ivanka Trump paid a visit to the Waukee Innovation and Learning Center in Iowa on Monday. The visit made for some very Ivanka-ish photo ops, and some folks on the internet were quick to accuse Trump of cosplaying as a scientist.
Trump was tasked with touring the educational facility to facilitate dialogue on workforce development and drum up support for her father's infrastructure initiative. While there, the first daughter participated in some classroom activities, measuring the nicotine levels in vape juice, touring a robotics lab, and examining a microscopic zebrafish embryo. In one pristine picture, Trump slapped on a pair of latex gloves and poured some substance from one tube into another tube. Science!
As it so happens, many people were not impressed with her display of scientific bona fides. Trump later uploaded photos of her foray into lab science on social media, and the ridicule quickly followed.
Many pointed out that one of Trump's photos looked like academic cosplay.
Twitter use @scout22agency is adamant about Trump's uncanny knack for looking like a stock photo model.
An account called @RogueNASA wants to enlist Trump in Space Force, the program that President Donald Trump said he wanted to create last week. It's like the Air Force, but, you know, in space.
This person just wants Ivanka to be safe.
It seems like most of the complaints are tied to the fact that Trump, like her husband Jared Kushner, has been given such a wide-ranging role in pushing White House policy without any expertise in a domain like infrastructure. The photo of Ivanka-as-scientist has only served to further inflame these criticisms. It's a visual metaphor for her presence as a senior advisor to the president — just another costume.