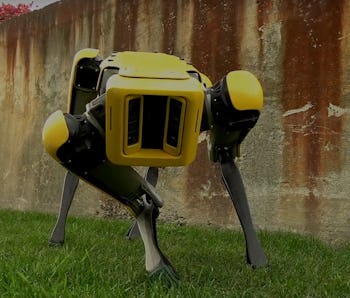 Innovation
Jeff Bezos' SpotMini Robot Dog Does More Than Just Look Cool
Boston Dynamics/YouTube
SpotMini has been on the trot. The Boston Dynamics-developed robot dog — which inspired a particularly dark episode of Black Mirror — was spotted at the Amazon MARS conference in Palm Springs on Monday, when CEO Jeff Bezos uploaded a photo to Twitter of his new robo-pal with the caption "taking my new dog for a walk." The awesome-looking team inspired a flurry of response from fans excited by the future potential.
"In a parallel robot world the tweet would be 'taking the richest man in the world for a walk,'" Twitter user Gokul Dinesh wrote in response to Bezos' post.
The robot dog has come on leaps and bounds since its June 2016 debut. The four-legged machine captured viewers' imaginations with its distinctive stepping style, but the developers have also shown SpotMini is capable of a number of household tasks. It can load dishes using an extendable arm, serve up a canned drink, and place items into the trash. When demonstrated at the TechCrunch Disrupt conference in December 2016, the bot successfully held a can and moved its body around without spillage.
At the same invite-only MARS conference, where attendees demonstrate the latest in artificial intelligence, robotics and space travel, Boston Dynamics also shared some details about Bezos' robot friend. It weighs 60 pounds, with an all-electric design that uses four cameras to move around. It's capable of fitting into the office, factory or home, and the team is touting SpotMini as a platform.
At the conference, the team demonstrated how SpotMini sees the world:
The team was a company under the Alphabet umbrella alongside Google until June 2017, when it was acquired by Japanese firm SoftBank. It's not clear when SpotMini may reach the market, but its new ownership has expressed support for its existing projects: SoftBank Group Chairman Masayoshi Son said at the time of the acquisition that "[Boston Dynamics founder] Marc (Raibert) and his team at Boston Dynamics are the clear technology leaders in advanced dynamic robots."
Bezos, whose company develops the Amazon Echo voice-activated home assistant, is clearly interested in how A.I. can transform daily life.