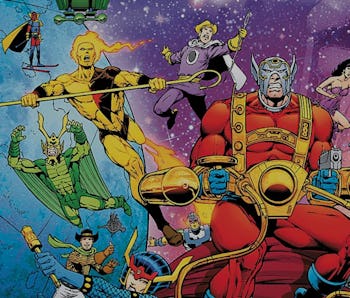 Entertainment
Ava DuVernay's 'New Gods': How Fans Reacted to the Other Big Superhero News
DC Comics
News broke on Thursday that Ava DuVernay will direct a New Gods film for DC after making history with A Wrinkle In Time,. The news of her taking on the much-celebrated Jack Kirby DC Comics franchise and heading to space for the epic adventure had people celebrating, but then Marvel went and dropped the newest trailer for Avengers: Infinity War. In one move, the company took over the news cycle and all the attention from comic book fans across the globe. People are watching and analyzing it to see what Iron Man, Black Panther, and the rest of the Avengers might be up to. Simply put, all eyes are on Marvel.
But, DuVernay is the first black woman to direct a major superhero film and joins Wonder Woman's Patty Jenkins as the second woman to do, so a celebration is definitely in order. Before Infinity War took over, fans took to social media to praise the New Gods.
DuVernay has mentioned her favorite superhero is Big Barda, a member of the New Gods franchise, so fans are excited to see what she will do with the character.
The excitement has even led some to hope for specific characters, casting and plot points already. One person wants to see DuVernay's take on DC supervillain Glorious Godfrey, while another believes there's a New God's role that is perfect for A Wrinkle in Time star Oprah.
The newly announced DC director also shared her own message on social media honoring New Gods creator Jack Kirby.
While there are certainly no further details about the specifics of the film, other than word that it might not have any connections to the rest of the DCEU, people are definitely excited to see what DuVernay will bring to the superhero landscape.