Penis Facials Aren't Backed By Science — Sorry, Sandra Bullock
Celebrities like Sandra Bullock and Cate Blanchett endorse "penis facials," but do they actually work?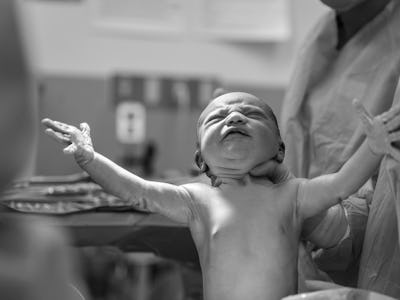 Unsplash / Alex Hockett
Cate Blanchett finally revealed what she and Ocean's 8 co-star Sandra Bullock use to maintain such youthful, luminous skin: the foreskin of Korean infants.
In an otherwise glamorous interview with Vogue Australia in which Blanchett promoted the newest Giorgio Armani fragrance, Sì Passione, Blanchett shared her favorite skincare routine — one she and Bullock reportedly like to call "the penis facial."
"Sandra Bullock and I saw this facialist in New York, Georgia Louise, and she gives what we call the penis facial," Blanchett told Vogue Australia. "It's something — I don't know what it is, or whether it's just cause it smells a bit like sperm — there's some enzyme in it so Sandy refers to it as the penis facial."
Known officially as the Hollywood EGF (Epidermal Growth Factor) Facial, so-called penis facials have earned the nickname not just because the process smells like sperm, but because it requires a serum derived from the cells of the foreskin of newborn babies.
According to Georgia Louise's website, "EGF is derived from the progenitor cells of the human fibroblast taken from Korean newborn baby foreskin — which helps to generate collagen and elastin."
There isn't much scientific research to prove that newly-severed baby flesh can make adult skin more youthful, but Georgia Louise makes a case for the stem cells within foreskin as active ingredients. After administering an intensive TCA peel, which uses trichloroacetic acid to dry and peel off dead skin cells, the baby foreskin is applied through an electric micro-needling wand, which, according to Georgia Louise, creates a "temporary micro-channel" that allows the stem cells to enter "deep in the skin." The innovative treatment costs $650.
Georgia Louise's website does not specify which layer of the skin this treatment can penetrate, but it's safe to assume the process is not as permanent or invasive as, say, a tattoo, which reaches the dermis. While medical researchers continue to investigate stem cells for potential restorative properties, there is little evidence to suggest that cell regeneration could take place when stem cells are used only as a topical treatment.
There is a theory that skincare containing stem-cell extracts may encourage cellular growth in the skin, and thus prevents aging. While that theory is promoted by some skincare lines, most companies offering this service use stem cells extracted from plants or fruits, not baby flesh.
Still, foreskincare (Can we call it that? Let's call it that) is on the rise. Georgia Louise boasts a lengthy list of celebrity clients seeking innovative skincare treatments, including Katy Perry, Alexander Wang, and Anna Wintour. "Georgia is a miracle worker," Emma Stone is quoted on their client list. "The best facialist in the world!" Gucci Westman raves.
There is little evidence to suggest the EGF serum generates collagen and elastin any more than other aspects of the treatment. Given that the baby foreskin is applied after a chemical peel using salicylic and glycolic acid and is followed by an electrifying mask, there are too many variables in the process to point to foreskin's necessity. But thanks to celebrity endorsements from Blanchett and others, its popularity is coming to a head.