Measles Exposures in Newark and Detroit Airports: What to Know
If you haven't been vaccinated, it's not too late to protect yourself.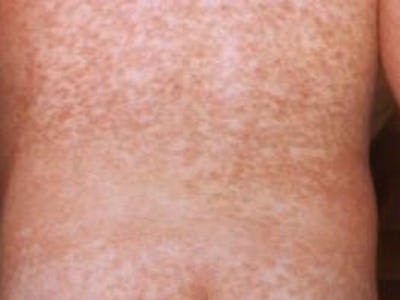 Wikimedia
By early March, a measles outbreak had already affected 21,000 people in Europe, sparking fears that the disease might reach the United States. On Wednesday, the worst seemed to have come true when health officials in New Jersey and Michigan issued alerts that measles exposures had recently occurred in local airports.
In New Jersey, the state Department of Health announced in a report on Wednesday that a young child traveling from Brussels via Newark Liberty International Airport to Memphis on March 12 had a confirmed case of infectious measles and exposed nearby passengers to the disease. "If you were at the airport between 12:45 p.m. and 9:00 p.m, you may have been exposed to measles, and if infected could develop symptoms as late as April 2," the announcement noted.
The Michigan Department of Health and Human Services announced in a report Wednesday that anyone who had visited the North Terminal at Detroit Metropolitan Airport on the afternoon of March 6 "likely were exposed to the highly contagious virus." The release noted that symptoms might not develop in people who were infect until late next week. Officials there had not been able to trace the infection back to a single passenger, but as USA Today pointed out on Thursday, Detroit Metropolitan Airport is a hub for international flights connecting Brazil, Canada, China, France, Germany, Great Britain, Japan, Jordan, Korea, Mexico and the Netherlands.
Though measles was declared "eliminated" from the United States in 2000, the Centers for Disease Control and Prevention note that outbreaks still occur annually "because measles is still commonly transmitted in many parts of the world, including countries in Europe, Asia, the Pacific, and Africa."
With the current outbreaks in Michigan and New Jersey, the people who are most at risk are those that were in the areas described in the releases that have also not received the measles vaccine, a two-part vaccine usually administered in childhood as the MMR (measles, mumps, and rubella) vaccine. According to the Centers for Disease Control and Prevention, the first dose is usually given to infants between 12 and 15 months, and the second dose is given to kids between ages 4 and 6, conferring measles protection with 97 percent efficacy.
Some adults, of course, may not have received the vaccine as children, but it doesn't mean it's too late for them to get protected. Adults who have had a case of measles before may already have natural immunity, but if not, it's recommended that they get "at least one dose of MMR vaccine."
According to the Immunization Action Coalition, the MMR vaccine may also be effective in preventing symptoms "if given within the first 3 days (72 hours) after exposure to measles."
If you were exposed, your symptoms might not develop for 10 to 12 days after the day of infection. Usually the first symptoms are a high fever, red eyes, a cough, runny nose, and sensitivity to light, and then the telltale rash kicks in, spreading from the head down to the lower extremities. If you think you were exposed and have any of these symptoms, it's best to see a doctor immediately.