The Future of Kinshasa: A City With a Destination and a Transport Problem
Africa's third largest city is preparing for a population bomb to go off.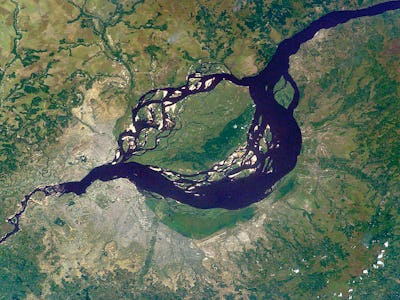 Flickr user Irene2005
Kinshasa, the capital of the Democratic Republic of the Congo, is the third largest city in Africa and home to over 10 million people. Some scholars predict that, by 2050, the city's population could skyrocket to 30 million, more than Cairo but less than teaming Lagos, which has the marked advantage of not being in the middle of a jungle. This growth will likely be powered predominantly by migration, which presents singular urban integration challenges.
Sebastien Goethals spends a lot of his time thinking about this. As part of the community of engineers and architects looking at how the DRC, a perpetual cautionary tale, can develop or adapt its infrastructure, Goethals makes it his business to see his adopted city for what it could be rather than what it is. An architect and urban planner, Goethals co-founded Citilinks, an international design partnership currently working in the city. Inverse asked him about how the city is changing, and how Citilinks, other firms, and the floundering government can brace itself for a populous, demanding future.
Can you briefly describe some of the urban infrastructure and design in place in Kinshasa right now?
The current urban infrastructure, rail and road systems, is inherited from the 1960s and the spatial growth of the city was mostly informal and oriented to the east along the Lumumba Avenue, which is in the axis of the Congo River.
One major challenge is that the primary and current city center is located at the northwestern edge, and is still the main economic center of the city. With around 11.5 million people in 2015, the Kinshasa agglomeration urgently needs at least one second city center and to become, gradually, a polycentric city where urban and economic development is connected to a suitable public transport network.
Most people currently walk everyday to the city center — an average of 19 miles in order to find informal business opportunities. The upper class is mostly located in the southern area close to the city center in the west of the agglomeration.
The Ndjili river cuts the agglomeration in two parts, with only one road/bridge linking the two areas. The fast urbanizing area at the eastern part of the city concentrates a growing population of around 5 million people with no suitable access to jobs, road infrastructure and energy. This is a major demographic bomb that mostly relies on informal economy and self-sustaining farming.
What will be the biggest challenges Kinshasa faces in the next 25 to 50 years?
In 2025, 60 percent of the 17 million people will be under 18 years old. It will be an immense "rurban" rural-urban young city with a major challenge of education. I think this city will need a very smart program of education combined with immediate economic added-value at the scale of the community.
A decentralized urban area should emerge with self-sufficient communities able to produce their own food and energy and develop community-oriented solutions to harvest stormwater.
Will climate change be an issue?
Climate changes may increase the heavy rains on Kinshasa and destroy the informal housing built without any standards. But that's already happening now. In response to it, there are many affordable housing projects proposed everywhere, but no general plan to integrate them in a suitable urban development strategy.
Alright, now it's 2050. What's going on?
The size of Kinshasa will have become critical and urbanization in DRC should be more balanced in the country. Otherwise the urban population will reach 30 to 40 million people, which is environmentally and socially impossible to assume for the region of Kinshasa.
For the DRC to better absorb demographic growth, the secondary cities will have to play a key role to limit the pressure on the capital.
What does Kinshasa need to do to address these problems? How will it need to adapt?
What is urgently needed now is a strategic and comprehensive plan for the city that integrate the planning of mixed-used neighborhoods and communities with a multimodal transport system adapted to local populations needs.
Urban agriculture should be integrated in the planning and not rejected by planning.
Beside its political functions and its informal economy, Kinshasa needs some smart and green urban industrialization using its unique location along the Congo River.
What are some specific projects by Citilinks and other urban development firms (public or private) that will meet these concerns? How do they improve on what is currently in place?
In 2010/2011, Citilinks made the Urban Mobility Plan of Kinshasa and proposed a Multimodal Transport Oriented Development adapted to Kinshasa.
The long-term plan was to propose a second metropolitan centre along the Congo river in the east, where informal urbanization without economic development currently happens, and to develop in a short-term perspective some intermediate hubs where the community-oriented economy can be more organized.
The backbone of this polycentric development scheme is a Bus Rapid Transit network, where BRT stations are cultural landmarks for local population connected to local food markets, solar energy stations and friendly to pedestrians and bicycles.
In the long term, this BRT system will connect the eastern slums to new development along the Congo River in order in limit the pressure on the existing CBD.
In the meantime, Citilinks proposes to build self-sufficient communities oriented to the circular economy, which can assimilate to Cradle-to-Cradle design. By producing local food, managing smartly local waste to produce energy (through biogas for example) and harvesting water through community water management centre, we can start to improve life conditions from inside. Once these self-sufficient communities are connected to each other thanks to multimodal public transport, the urban economy can start to grow and innovate, connect itself as well to the industrial activities (basic products transformation, etc.)
We are still working on African megapolis solutions and hope to build a pilot community in Kimbasenke.
How is new technology in engineering, architecture, and urban design making it easier to address these problems?
I think that real-time information on smartphones is a potential revolution in the African urban context. If people get connected through applications to have a better accessibility to public transport, jobs, energy, and water, physical infrastructure can exploit these new solutions to catch up quicker than expected.
The BRT system is interesting for Africa because it's 12 times less expensive than building a metro. Guangzhou, China has recently proven that it can have the same capacity as a metro.