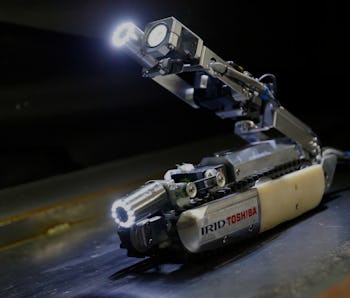 Innovation
The Last Best Hope for Fukushima Is This Scorpion Robot
Toshiba has developed a small robot to aid in the nuclear meltdown cleanup.
AP
Four years out from one of the worst nuclear meltdowns in history, and the people around the Fukushima Daiichi Power Plant in Japan are still in search of answers. They may get some in the form of a new insect-like robot developed by Toshiba Corp.
The Japanese multinational conglomerate has developed a small, 21-inch long robot that resembles a scorpion that will hopefully be able to search and assess one of the nuclear plant's destroyed reactors.
Using front-mounted cameras and driven via remote control, officials hope the little bot will be able to slink through small fuel rod ducts and locate fuel in the middle of the reactor that has yet to be reached due to the still deadly levels of radiation. Toshiba apparently has no back up plan for any other insect-based robots, so the fate of recovery effort rests on this one scorpion bot. Even then, the robot is only able to tolerate enough radiation to stay inside the reactor for 10 hours.
This isn't even the first time a robot has been developed to scope out the meltdown. This past April two snake-like robots were sent in the same route to get a look at the potential fuel levels leftover in the reactor, but both malfunctioned and had to be left behind.
Officials hope to send the bot into the reactor in August after the robot's operators spend a month of training via set-up obstacle courses in Toshiba's lab near Tokyo. These setbacks are an annoyance, but in this case patience is a virtue.
Decommissioning the Fukushima plant is estimated to take decade, and the information the scorpion bot could compile will be crucial in planning the unprecedented cleanup.