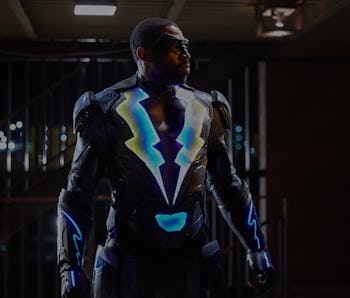 Entertainment
Why 'Black Lightning' Actually Feels Like It's Set in a Real City
The CW
Unlike Green Arrow and the Flash's stomping grounds, Black Lightning's Freeland feels like a real city. When Anissa, Jefferson, and Jennifer go jogging together down their street, it looks like something you'd see out your window, and Jefferson's relatable encounters with students feel like something out of a real high school. Unfortunately, even when a young black man is shot during a protest, it feels real. Black Lightning is a show about metahumans and superheroes saving the day in costumes and its setting still reads like a real place because the show's creators had actual cities and towns in mind when they created Freeland — and the very real problems that towns like that face.
During a conversation with Deadline, showrunner Salim Akil and star Cress Williams discussed how realism and specificity was the key to Black Lightning's world. "I didn't want to be too fantastically because so many people out there are suffering and I felt like they needed a hero," Akil said, "And I wanted Black Lightning, Thunder and Lightning and Lynn to be their heroes."
"I wanted someone to be – or some people to be – concerned about what's going on in Chicago, what's going on in Watts, what's going in Oakland. I wanted people in those areas to feel like there was someone who was thinking about them and so I wanted the show to reflect that," he continued.
A perfect example of that was the recent introduction of Green Light to the town's streets. The drug has been spreading across Freeland, and Black Lightning has been trying to get to its source ever since one of Jefferson's students tore up the bathroom in school while high on it. Akil discussed how the fictional drug's spread was inspired by the way real drugs and guns reach cities across America. "So, the thing we're are exploring is we started in the neighborhood and now we're expanding to say how do, how do, these things — guns, drugs — get in the neighborhood? And why?" he continued. In tracking down the real-life answer to that question, Black Lightning makes Freeland feel all-too-familiar.
Akil explained how Black Lightning will follow the story of Green Light beyond Freeland's borders, setting the show up for an "exploration of why these things come into our neighborhoods." To do this, Akil referenced real moments in history, like the Tuskegee experiments and the current opioid crisis, to illustrate how these types of problems don't just happen in cities. According to Akil, "These things just don't fall accidentally into these neighborhoods and we want to explore how they get there and why?"
The answer to where Green Light comes from in Black Lightning — and the reason why the setting feels as real as it does — may be in our history books instead of the pages of a comic book.
Black Lightning airs Tuesdays at 9 p.m. Eastern on The CW.