SXSW 2018: The Biggest 'Ready Player One' Easter Egg Is a Huge Spoiler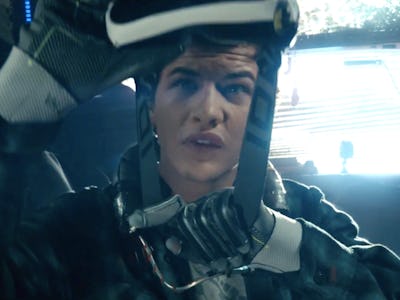 Universal
Entering into a virtual reality world populated by literally every single popular sci-fi franchise imaginable was always going to be tricky to capture on film. And now, the star of Ready Player One admits that translating Ernest Cline's popular novel into a Steven Speilberg film was "tough." Meanwhile, the film's screenwriter says there's one Eighties reference no one knows about yet and it's a big spoiler.
On Monday, speaking on the red carpet for the SXSW premiere of Ready Player One, the movie's star — Tye Sheridan — said "It was a really tough adaptation. The book goes to some places that would be really hard to translate to screen. I think tonally the movie feels very much like the book, and the heart of the book and why people love it is still very much ingrained in the film. I think people will enjoy that aspect."
But what places that the book goes to is Sheridan referring to? Most likely, the actor simply means that because there are so many different films and franchises mentioned and depicted in the pages of Ready Player One, it would be nearly impossible to cram everything in there. In other words, how does a movie that contains Back to the Future, and Star Wars also incorporate Star Trek and Battlestar Galactica? With relative ease, the novel is able to depict characters appropriating anything they could imagine in the VR world of the Oasis, making the scope of Black Mirror's "USS Callister" look tiny in comparison. And the film might have to be smaller, too. Still, there are a few huge surprises still coming.
During the same round of red carpet interviews, screenwriter Zak Penn spoke to the need to get releases from various films and directors in order to use certain things in the film. "Obviously the DeLorean. That we did have to get Steven [Spielberg] to sign off on" Penn said. "The one biggest spoiler I can't tell you. You'll find out eventually. But that's my favorite part. You'll know it. When you see the movie you'll be like that's what Zak was talking about."
Ready Player One is out in wide release on March 29, 2018.