Hundreds Possibly Exposed to Nerve Agent Linked to Russian Spy Attack
As many as 500 could have been exposed.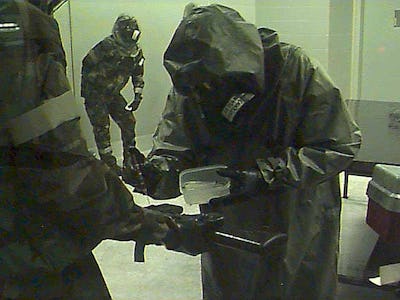 Department of Defense
Locals in Salisbury, UK, received even more unsettling news Sunday after Public Health England (PHE) issued a warning urging hundreds of people who visited Salisbury venues to wash their clothes and possessions, as they may have been exposed to the nerve agent used to poison ex-Russian spy Sergei Skripal and his daughter, Yulia.
In a press conference, PHE's Regional Director Jenny Harries confirmed that investigators found traces of the nerve agent at both a local Zizzi chain restaurant and The Mill pub.
Ex-Russian spy Sergei Skripal, 66, and his daughter Yulia, 33, remain in critical condition after being exposed to the nerve agent last Sunday. Detective Sgt. Nick Bailey, who attended the scene where the Skripals were found, is also in serious condition, but is able to communicate.
The table where the two Russians sat at Zizzi was reportedly contaminated. Other furniture items are said to have been destroyed to prevent future poisonings, though that probably isn't helpful for collecting evidence. Both Zizzi and The Mill are now linked to the poisoning and remain closed to the public while under investigation.
The bench where the two victims were found, a parking lot, Skripal's home, and part of the local cemetery, including and the graves of his wife, Lyudmila, and son, Alexander, are also cordoned off for further investigation.
However, as many as 500 people are believed to have frequented these venues and could have brought trace amounts of the nerve agent home with them. England's Chief Medical Officer Sally Davies told reporters that she was confident the nerve agent had "not harmed the health of anyone," but the public health warning was a necessary precaution. Repeated contact with items exposed to the nerve agent could still pose serious risks. Given the way nerve agents are typically used in warfare, the government wants to squash any panic, while still deploying personnel from the Royal Air Force, British Army, and Royal Navy to aid in the investigation.
Besides striking fear in local Salisbury hearts, the issued warning leaves several questions about the nerve agent unanswered. Most notably, Harries declined to reveal how the Skripals had been given the nerve agent. Knowing whether the poison was administered in powdered form or dispersed through a liquid could help Salisbury residents better understand what it is they are supposed to watch out for.
It was revealed to the public that the nerve agent is considered "very rare," which is a small start, but could be helpful in letting investigators narrow their focus. Nerve agents require considerable infrastructure and resources for production. Presumably, the more unusual the agent, the easier it will be to local its country of origin.
Given Skripal's legacy as a double agent, public speculation is aimed at the Russian government as an act of delayed retaliation. Skripal was convicted of passing secrets to MI6 but was given refuge in the UK in 2010 as part of an arrangement with the Russian government. Russia denies any involvement in the attack.