Google Doodle Champions Paralympic Athletes as the Games Commence
Nine days of sports action start now.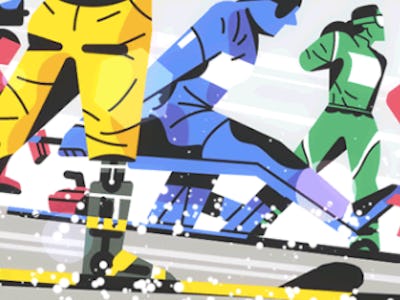 Google
PyeongChang is back in the spotlight again this week as the Winter Paralympics kicked off on Friday.
Friday's Google Doodle honored the athletes involved in all events, showcasing six colorful competitors racing together in the same direction.
According to the Paralympic organization, this is going to be the biggest Paralympics yet; a record 567 athletes from 48 countries and the Neutral Paralympic Athlete delegation will compete in 80 events. It's also being touted as a big year for female athletes. Ahead of the Games, the Paralympics, estimated a 44 percent increase in female athletes in this year's competitions (some athletes have dropped out since the initial tally of competitors). The Games will last a total of nine days.
Like the Winter Olympics, the Paralympics contain much of the same sports fare. Specifically, athletes will be competing in six sports: alpine skiing, biathlon, cross-country skiing, ice hockey, snowboarding and wheelchair curling. At the Paralympics, competitions are organized into categories based around impairment. Called "sport classes," each athlete is placed into a competition based on their activity limitation. "This, to a certain extent, is similar to grouping athletes by age, gender or weight," the Games' website explains.
At its most fundamental, the Paralympics exist to facilitate para athletic visibility and the opportunity to for athletes to compete at an elite sports level. At its core, the Paralympic organization aims to "touch the heart of all people for a more equitable society."
Originally conceived in 1948 as a small competition for British World War II veterans, the games have increased to an impressive level, now hosting thousands at the Summer Games. The first official Paralympic Games no longer solely for impaired veterans were held in Rome in 1960, with the first Winter Games taking place in 1976 in Örnsköldsvik, Sweden.
NBC will be covering the Paralympic Games over the next nine days. For a full listing of events and how to watch — from streaming to live TV coverage — check out the NBC schedule online.