Magic Leap's Futuristic A.R. Googles Have Already Raised $2.3 Billion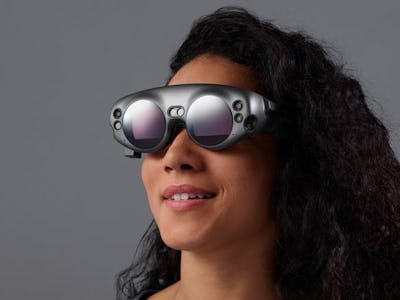 Magic Leap
Magic Leap is just raking in funding. The Florida-based startup has accumulated over $2.3 billion in funding, after revealing on Wednesday a $461 million investment from Saudi Arabia. The kit is set to launch later this year, with a price tag justified by the fact that it can replace several gadgets, but finer details remain a mystery.
"The Magic Leap team and I are happy to welcome The Public Investment Fund and the other new investors to the Magic Leap family. We look forward to having them join us on our journey to build an amazing future," CEO Rony Abovitz, a biomedical scientist that founded the company in 2011, said in a statement.
While $400 million came from the Kingdom of Saudi Arabia's Public Investment Fund, the rest came from new investors. A further $502 million round in October places total Series D funding at a staggering $963 million.
In some ways, it's unsurprising. After staying in relative silence for most of its existence, Magic Leap burst out in December last year with an impressive demonstration. Its Lightware headset goggles come in two sizes. They link up to a whole computer called the Lightpack, which sits in the user's pocket and is said to be similar in power to a MacBook Pro. The whole setup, dubbed Magic Leap One, can power virtual meetups, virtual stores, and new genres of games.
The company's April 2016 demo shows how this could look in practice:
What's impressive about the announcement is there's still a lot about Magic Leap that isn't known to the public. The specifications of the Lightpack are still unknown, as is pricing and an exact release date. The cheapest version is expected to cost around $1,000, but the company is pitching the range as a replacement for the computer, TV and phone.
A Creator Portal featuring a software development kit is set to launch early this year. When it arrives, it may give the world more an idea of what this mystery machine can do. If it lives up to the hype, it could be nothing short of spectacular.