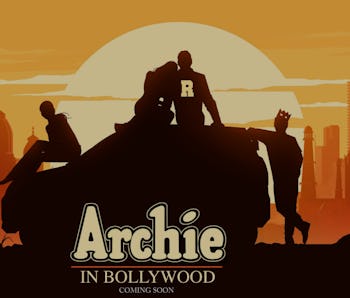 Entertainment
Bollywood Is Going to Take 'Riverdale' and Archie Comics One Step Further
Archie
Archie and his friends have been on quite the journey since 1941. They started out as your average high school students going to dances and dealing with relationship issues. Since then they have fought hoards of the undead, been turned into vampires, and found themselves in the murderous small-town of Riverdale. Now, they are off on a new adventure to Bollywood.
On Wednesday, Archie Comics announced that it's teaming up with Graphic India to create a live-action Bollywood movie about the characters of Archie Comics, according to Variety. The film will bring many of its characters, including Archie, Betty, Jughead, Veronica, Reggie, and Moose, to life with an Indian cast.
Longtime fans of the comic book series in India will get to enjoy the characters in a whole new way when the film premieres. "Archie's lasting and growing presence in India made this move the logical next step as our stellar library of characters continues to expand into other media. It's a major moment for Archie and its fans around the world," Archie Comics CEO Jon Goldwater said.
Archie Comics did introduce a character named Raj Patel, a Riverdale High student and aspiring filmmaker. Archie and his friends have traveled to India on several occasions with Raj, including a stop in India for "Bollywood Love" an issue from a four-part world tour story.
For Archie fans in India, the adaptation is a big deal, as they'll be able to see themselves in the characters they love to see on the pages of comic books. Graphic India CEO Sharad Devarajan explained that "Archie, Betty, Veronica, and Jughead have been a source of inspiration for numerous Bollywood films over the years, and now it's time to take them fully into Bollywood in an exciting new twist of a story that we have planned. These characters have held a special place in the hearts of Indians for decades and we have no doubt that the new Indian cast of Archie and the gang will be an exciting moment for the country."
Archie has historically made strides towards diversity, which is impressive given how White the comics originally were back in the Fourties. When the CW Riverdale Camila Mendes and Ashleigh Murray as Veronica and Josie, respectively, in Riverdale, they brought Archie into the present and allowed more people of color to see themselves in the story.
Archie Comics has proven its stories are adaptable to many genres with Bollywood being the most recent. What began has an all-American teen story has slipped seamlessly into horror and the supernatural on the pages of comics. The popularity of Riverdale is evidence of the world's ability to adapt to dark teen melodrama and crime. Bollywood is simply the newest frontier for the ever-adaptable comic book series.
This does beg the question: what's next? Where else will Archie and his friends go?