Archie Comics One-Ups 'Riverdale' By Turning Veronica Into a Vampire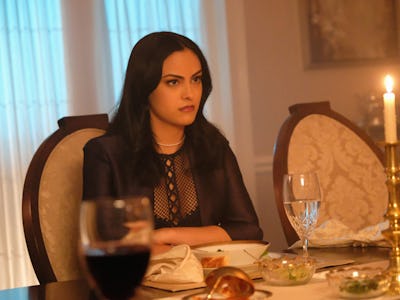 Bettina Strauss /The CW
Archie, Betty and the rest of the Riverdale gang may be dealing with a class war, murder, and the occasional high school drama, but they have nothing on their comic book counterparts.
The comic book franchise is taking Veronica down an otherworldly journey. According to Entertainment Weekly, the next step in the character's journey is life as a vampire in the aptly named Vampironica.
Written by Greg and Megan Smallwood, the new series will follow Veronica as she struggles with her newly acquired thirst for blood after she is bitten at a party. Making things more complicated is the undead who descended on the town of Riverdale.
According to Megan Smallwood, this upcoming story will show readers a new side to the longtime character. Veronica, who is typically vain, will be seen in a different light. "As a fan, I'm used to her playing opposite to Betty's good-naturedness but Vampironica will be a little different in that aspect. The story and supporting cast is seen through Veronica's perspective and that lends itself well to building more complex aspects of her personality," Smallwood told EW.
This is far from the first time the comic book series has gone down the supernatural road. In the past, Jughead turned into a werewolf and there was a zombie apocalypse in Riverdale. However, those horrifying tales took place outside the "main" Archie continuity, as will this new blood-sucking series.
The Archie comic universe is no stranger to the supernatural as Sabrina is a major player in some stories. The adventures of the teenage witch are under the Archie comics umbrella including The Chilling Adventures of Sabrina, which is being adapted for a Netflix series. While seeing Veronica, Archie and their friends in the supernatural world may not be in the cards at The CW just yet, fans can head to Netflix to get their fill when the new Sabrina series premieres.
The first Vampironica issue will be released on March 14.