Litecoin is Slumping Amid LitePay Fiasco, but That Could Change
The cryptocurrency could stage a turnaround.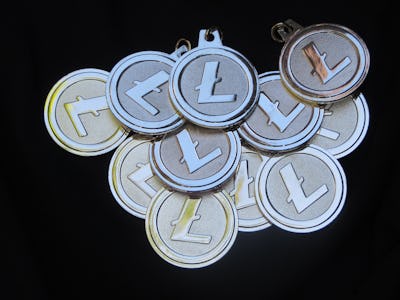 Flickr / btckeychain
Litecoin is not having a good time, but it could turn things around. The fifth-largest cryptocurrency was ranked as having a $10.8 billion market cap on Wednesday after a price decline that started on February 26. That was also the official launch day of LitePay, a highly-anticipated payment system that's suffered from setbacks that have irritated the community.
As part of a wide-ranging update released Monday, LitePay claimed that its consumer debit card was still on hold due to "the negative perception and drastic actions card issuers have towards cryptocurrency companies." The update was not warmly received by Litecoin users on Reddit, who questioned the stringent merchant registration process.
It's been a rough ride for Litecoin, as its price dips amid a wider sell-off in the cryptocurrency sphere, with bitcoin, Ethereum, and Ripple also seeing drops. From its peak of $231 on February 26, Litecoin has dropped to $193.97.
However, some analysts believe Litecoin could be undervalued. Josh Olszewicz, writing for Brave New Coin, noted that the network value to transactions ratio is among the lowest in the market, with only Dogecoin and Cardano showing a lower ratio. Although this figure is hard to compare across cryptocurrencies, it gives a rough guide as to how much a token is being used against its current valuation.
Other analysts have pushed even harder on this line. Writing for [Oracle Times](https://oracletimes.com/go-hard-on-litecoin-ltc-before-its-too-late-enjoy-the-dip/), Pedro Bernardo claimed that the latest Litecoin Core update showed the team's dedication to future development. New fixes included the banning of duplicate wallets, alterations in network safety measures, and a reduction in the minimum relay fee.
"Right now the market is experiencing another dip which to me is fine, since in reality it represents another opportunity to buy your favorite coins at a discount," Bernardo wrote. "With that said, it may very well be the last time you see Litecoin under $200."
Whether LitePay can help turn things around is another question. The company promised to bridge the all-important gap between cryptocurrency trading and the real world, allowing users to spend in 41 countries. The minimal amount of communication since launch suggests Litecoin may have to look elsewhere for boosts in usage.