Luke Cage Wears a Real Hoodie Supporting Black Students in Season 2 Trailer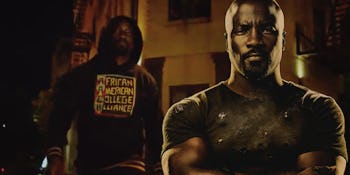 Netflix/Marvel
Soon after Luke Cage returns from prison at the start of The Defenders, Misty Knight asks him to go on a walk around Harlem to discuss how he can help the community, specifically the youth being targeted by a criminal organization. That desire to help the young people in Harlem is what launches him into the fight with The Hand in the first place. So, it makes sense that Luke Cage would try to do a little IRL good, as he wears a hoodie from a real organization that aims to promote black students.
On Tuesday, Netflix released a teaser for the upcoming second season of the popular Marvel series, and in it, Luke Cage is seen wearing a hoodie with the words "African American College Alliance" on it. The hoodie in question comes from the African American College Alliance's clothing brand, which raises the awareness for Historically Black College and Universities (HBCUs).
The brand's Kickstarter page explains that it started making cool clothing for HBCUs in the Nineties because nobody else was. At that time, celebrities — especially hip-hop artists — took to wearing bold, cool clothing from schools like Syracuse and North Carolina. A group of Howard University students, upset that their school didn't have any gear while nearby Georgetown, got the African American College Alliance going to remedy the problem, ushering in new levels of pop-cultural awareness of HBCUs.
Not only were the hoodies seen in hip-hop music videos and magazine spreads of rappers, but also in other popular black media. Popular shows like Martin and Living Single had scenes where the leads wore AACA apparel. In an interview with radio show The Breakfast Club, AACA owner Chris Latimer discussed how LL Cool J wearing an AACA Florida A&M hoodie at President Clinton's inauguration changed things for the brand. Now, the same is being done in time for the relaunch. With the brand in the midst of a campaign that has already met its goal, the apparel is again making its way into popular black media with Luke Cage.
Inverse has reached out to the African American College Alliance for comment.
Luke Cage's second season premiere is set for June 22, 2018.