Will Allison Janney Win the Oscar for 'I, Tonya'? A.I. Predicts
Her role as Tonay Harding's mom is great but will it win an Oscar?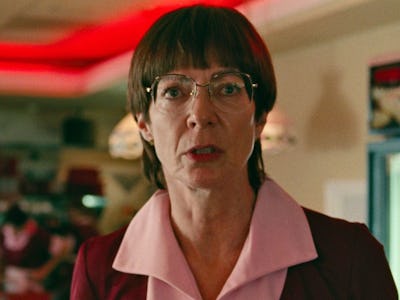 Allison Janney's performance in I, Tonya may land the esteemed actress an Academy Award for Best Supporting Actress. Her role as Tonya Harding's mother, LaVona Fay Golden, was done without any direct feedback from the real-life LaVona which offered its benefits and drawbacks.
"It was challenging," Janney told the press ahead of the 2018 Oscars, to play a the role of a woman she couldn't directly talk to. "But I felt unburdened by the fact I wasn't going to meet this woman and I couldn't interview her or ask her the questions I wanted to, so I made up who she was in my mind."
The result is a powerful performance. Janney's depiction of an abusive parental figure brings into sharp focus an ugliness that often comes with being an ambitious stage mom who lives vicariously through their child's success. This GIF get close to summing up her role:
Unanimous A.I., a San Francisco-based technology firm that uses "swarm intelligence" that makes scarily accurate predictions, is almost sure Janney will win the 2018 Best Supporting Actress Oscar on Sunday night.
To predict the winner for Best Supporting Actress and make other 2018 Oscar winner predictions, Unanimous A.I. used what's known as swarm intelligence to forecast the likely winners, using a pool of 36 amateur movie enthusiasts. Each member of the swarm worked together as a hive mind to make picks.
As you can see in the animation below, each participant controlled a little golden magnet and used it to drag the puck toward the answer they thought was the most likely outcome. As users see the puck move toward a particular outcome, it triggers a psychological response. They readjust their decision-making, building toward a consensus. In this case, the swarm is 87 percent confident that Janney will be giving a thank-you speech on Sunday night.
"The goal is for each participant to bring as much info to the Swarm as they can, and combine that collective intelligence with AI algorithms, to try and turn this group of Hollywood outsiders into a "super-expert" able to compete head-to-head with the experts at places like Variety and the LA Times," says Joe Rosenbaum of Unanimous A.I.
In 2017, Unanimous A.I. got five of the the Big 6 Oscar categories correct (Best Actor, Actress, Picture, Director, Supporting Actor, Supporting Actress). It missed the mark on Best Picture, as its swarm of movie experts incorrectly guessed that La La Land would win. Moonlight was the actual Oscar winner for Best Picture in 2017.