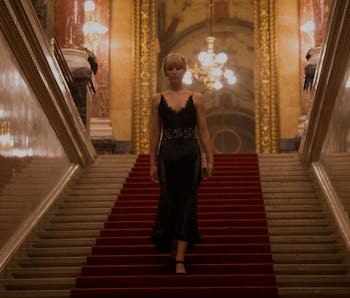 Entertainment
How 'Red Sparrow' Sets Up Potential 'Palace of Treason' Sequel
The door is open for Dominika's next adventure.
Twentieth Century Fox
When Red Sparrow star Jennifer Lawrence and director Francis Lawrence (no relation) last worked together, it was for The Hunger Games, the massive franchise based on Suzanne Collins's young adult novels. Now, the Lawrences are at it again, this time in Red Sparrow, also based on the first book of a trilogy by real CIA veteran Jason Matthews. True to the modern age of movies, the ending of Red Sparrow sets up a possible sequel that could be based on Matthews's 2015 sequel, Palace of Treason.
Spoilers for Red Sparrow ahead.
In the film, now playing in theaters, Lawrence stars as Dominika Egorva, a star ballerina who is trained to become a "Sparrow," a honey pot for the Foreign Intelligence Service (SVR). Dominika is assigned to seduce CIA agent Nate Nash (Joel Edgerton), whom the Russians know is handling a mole among their ranks. But the two end up falling for each other, and together they team up to navigate themselves out of their predicaments.
In the end, Dominika betrays her evil uncle, Ivan (Matthias Schoenaerts) by falsely framing him as the American mole. In an extra twist, Nate's real mole was General Korchnoi (Jeremy Irons). The general pays back Dominika by promoting her to Captain of the SVR, where she's hailed as a national hero. In a rare quiet moment at home, Dominika gets a romantic, unspoken call from Nate, where he plays the same music from the night they spent together.
It's a sweet ending to a harsh movie. But the ending also sets up the events of Palace of Treason, the sequel to Red Sparrow, where Dominika continues her work as Captain while secretly sharing intelligence to the CIA.
In Palace of Treason, Dominika struggles to adjust to her new job as she deals with Putin's inside men. Causing extra tension is that Dominika continues to work for the CIA, and with Nate Nash, who is still her lover. While Dominika risks being outed as a CIA insider, she also survives an assassination by Iranian forces as well as Putin's advances. (Yes, Putin is in these books.)
But will Palace of Treason become a movie? "If people see the movie," director Francis Lawrence told Inverse at the film's press junket, suggesting the fate of the franchise depends on how audiences respond to the first film. "We're not jamming it down anybody's throat or setting dates. If people go and people see another one, then we'll make another one."
Red Sparrow is in theaters now.