Instagram Star "Girl with No Job" Apologizes for Racist Tweets, Loses Show
Claudia Oshry Soffer's brand has been burned.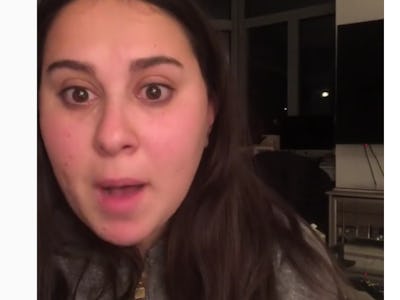 @girlwithnojob
Claudia Oshry Soffer, aka @girlwithnojob on Instagram, is under fire for old offensive tweets. So much so, that they've cost her and her sisters their popular web series, which Oath canceled today.
The social media star, known for her funny and meme-driven content, currently has 2.8 million followers on Instagram. On Thursday, Soffer uploaded a video apologizing for the tweets and pleading with followers for a second chance. In the video titled "An apology to all of you," 23-year-old Soffer addresses old posts she wrote at age 16, which people have found racist and Islamophobic.
"Some news was broke this morning about who my mom is and then some really disgusting, vile, stupid tweets of mine resurfaced. I need to come right out and say I'm sorry. I was a dumb kid," Soffer says in the video.
"I was 16, and I thought I was being funny and cool on Twitter," she continues while crying. "I'm not racist. I can't believe I have to say that. I'm so sorry to anyone who read those tweets and had a reaction. That's not who I am."
The incident follows a Wednesday Daily Beast report which revealed that the social media personality and her sisters, including influencer @jackieoproblems, Margo, and Olivia, are daughters of conservative blogger Pamela Geller.
Geller is known for her anti-Islam views and became infamous for her staunch opposition to the construction of an Islamic community center near the World Trade Center in Manhattan. She's also been called Islamophobic due to her conspiracy theory that Sharia law is creeping into America, along with organizing the controversial "draw the prophet" cartoon contest in Texas that drew gun violence.
The Oshry daughters have avoided being associated with Geller on social media by never featuring her publicly in any uploaded content, thus hiding the family connection. However, photo evidence of the sisters posting from their mother's home has helped prove the familial ties.
Prior to the controversy, the four sisters had gained quite the following on social media, with Jackie having been signed to talent agency CAA last year. Together, Jackie and Claudia host their web series The Morning Breath, produced by Olivia. The show had aired on Oath, the recent merger company between AOL and Yahoo, who chose to cancel it early Thursday.
"The Morning Breath, an Oath social-media show, is being canceled immediately and we have launched an internal investigation and will take other appropriate steps based on the results of the investigation," an Oath spokesperson said of the cancellation decision.
Fourth sister Margo is Instagram famous for running the food account @hungoverandhungry_, which boasts over 100,000 followers.
As news surfaced of the sisters' extreme concealment of who their mother is, Jackie also released a statement explaining their unfortunate position while condemning their mother's views.
"We want to be clear to our audience and fans that our political and cultural beliefs are not anti-Muslim or anti-anyone," Claudia Oshry told Page Six. "Our views are separate from our mother's. Being raised by a single parent, we were taught to make our own choices based on our personal beliefs. We are inspired to think for ourselves and we do. We do not condone discrimination or racist beliefs of any kind."
She also posted an apology on her Instagram account.
While the quartet has been on an apology tour on behalf of their family since the news broke, it's unclear how their past posts and their mother's identity will affect the Oshrys' collective social media influence moving forward.