Penguin's Alliance With Joker Will "Change Minds" in 'Gotham' Season 4
Cobblebot may also get to wear a top hat soon enough, teases Robin Lord Taylor.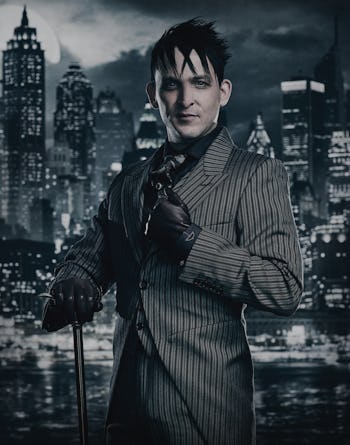 FOX
Of all the Batman villains that run amok in Fox's Gotham, few have had as radical a portrayal as Oswald Cobblepot, better known as the Penguin. In the mid-season continuation of Season 4, airing on March 1, a new, uneasy relationship with Jerome — Gotham's Joker — will change how comic book fans see the iconic characters. Plus, Penguin may also finally get his top hat to boot.
"I can tease that you see a top hat, which is really exciting," Taylor actor Robin Lord Taylor told Inverse at Tuesday's live Tumblr Q&A in New York City. "Any time those pieces come together I feel like I'm ten years old. That's the exciting thing about this show. It's watching these characters evolve."
More important than high fashion, however, is Cobblepot's current predicament. Where Gotham left off in 2017, Cobblepot found himself in Arkham Asylum, locked in a cell next to "Jerome," played by Cameron Monaghan. As far as fans can tell, Jerome is a young Joker, whose story began in the first season when he killed his mother's lover in their traveling circus.
"I'm excited for fans to see the interplay between Jerome and Penguin," Taylor said of his character's arc for the second half of Season 4. "I think it'll change minds about people's ideas about both the characters."
"It's clear from the beginning Jerome is in control. He's running Arkham. And it makes sense, it's a place that's chaotic and fits his personality," Taylor added.
But Arkham doesn't fit Taylor's Cobblepot in the slightest. "It's very terrifying for him to be in this situation. It's emotional too, because for once he didn't do anything bad. To find himself at the whims of a madman that is Jerome, it's one of the most challenging things he has to deal with."
Behind the scenes, Taylor said he got to work with Monaghan a lot as they played inmates on the asylum set. "I was inspired by him," Taylor said. "And it was funny to be in that emotional state, those days we're just wandering around an asylum fucking out of our minds."
Notably, in Season 2, Cobblepot had a queer relationship with Edward Nygma (Cory Michael Smith), who is evolving into Batman's mental nemesis, the Riddler. Taylor says Cobblepot and Jerome won't have the same sort of dynamic he had with Nygma. But fans should look forward to how Cobblepot will act when he's reunited with the Riddler.
"Characters that have been close and split apart because Gotham is the way it is, to survive, they need alliances and they always swing back into each other's lives," Taylor explained. "When the Riddler and Penguin come back together this year, it's not going to be how people expect."
Since Taylor debuted as Cobblepot in the first season of Gotham, Cobblepot has evolved from a momma's boy and lackey to the city's criminal bosses to his own man. But after riding the highest of highs, Penguin starts the second half of Season 4 "at the lowest he's ever been." It seems Penguin will have to really earn his way before he becomes Gotham's made-man, top hat and all.
Gotham airs on Thursdays at 8 p.m. Eastern on Fox.