Vero Extends Free for Life Offer Due To "Extraordinary Demand"
The app surpassed a million signups.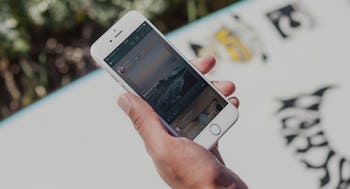 Vero
It's been quite a week for the social network Vero.
The app, which is experiencing a spike in popularity nearly a year after launching, is still offering a "free for life" membership for new users. The special offer was originally intended for the first million sign ups.
"We'd like to thank all of you for your support and belief in the need for a Truly Social Network that celebrates people's passions without algorithms, ads, or bots," Vero's site announced Wednesday morning.
The statement goes on to say that "due to the large wave of new users joining over the past several days, we have encountered technical issues which have left many experiencing service interruptions."
Vero started experiencing extended service outages when thousands of folks began to download it this week. The app's bold slogan, "less social media, more social life" peaked many social media users' interest, causing an influx in accounts created.
Vero is attempting to set itself apart from the social network pack by claiming it doesn't use traditional advertising. Its forthcoming business model will instead rely on a subscription model. The platform also plans on generating revenue by charging brands for sales, via a "buy now" feature.
Founded by Ayman Hariri, the Lebanese billionaire son of the late former Prime Minister Rafic Hariri, the app is being pegged as a sort of "new Instagram" for creative types. Unlike the Facebook-owned photo-sharing platform, Vero is is promising a more streamlined, private experience online where you can tier who sees what on your account.
"When you can control who sees what, you can behave in a way that is more natural," the company's manifesto claims. "We created a social network that lets you be yourself. Hence the name Vero. Meaning truth."
Aside from technical glitches, Vero's sudden rise in popularity also drew skeptical opinions surrounding all the excitement. After all, the app is reminiscent of other post-Facebook social platforms that failed to capitalize on their mission. Ethically-built Ello and the photo-heavy Peach come to mind.
Whether Vero sustains its popularity among the crowded social media scene remains to be seen. For now, you can still get in on the free-for-life membership by downloading the app through the iOS and Android stores.