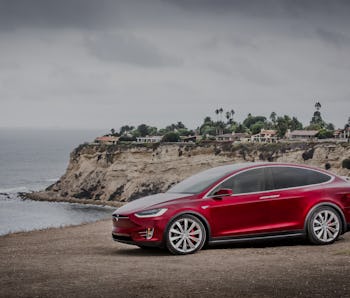 Innovation
How a Tesla Model X Ventured 500 Miles Off-Road in the Wyoming Wilderness
Tesla
There have been some impressive stories of off-road adventures in the Tesla Model X. But this off-road challenge was especially daunting. A professional photographer and Model X owner planned to cover the Adventure Racing World Championships through 500 miles of wilderness in Wyoming. However, he was cautioned against it.
Why? According to InsideEVs, "His job [as photographer] is to follow the racers from 50 teams from all over the world. They'll be repelling, mountain biking, bushwacking, and canoeing… [but] he was told ahead of time that following these racers with a vehicle could not be done. Also, there's been concerns with ICE cars in past running out of gas since there's sometimes 200 miles between gas stations and the trails are taxing."
Read more from Inverse: "Elon Musk Shares Stunning Race Video of Model X Crushing Gas SUVs"
How could someone attempt to cover the Adventure Racing World Championships in an electric vehicle when even gas cars have range issues at the event? As it turns out, "there's generally always somewhere to pick up a little charge. He prepared ahead of time by buying a bunch of plugs and adapters (about 200 pousnds worth) so he can charge anywhere, whenever there's an opportunity. In fact, he has nearly every type available."
And to add more difficulty to the trip, "He's also pulling a trailer with his personal gear for the excursion, which makes off-roading even more of a challenge." Furthermore, the road trip started all the way back in Toronto. According to the photographer, "[the] total road trip distance from Toronto, Wyoming, Utah, Wyoming, Toronto was 11, 311km @ 272Wh/km (7,028mi @ 438Wh/mi)."
Why take on such a challenge? The photographer wanted to film his own review of the "Tesla Model X in some off-road conditions. I had to work in Wyoming and traveled many muddy, back roads and trails." He also explains (in the video) that taking the Model X through such terrain proved to the naysayers that it could be done.
After the adventure, the photographer noted that he'd encountered people who'd seen Tesla vehicles in cities but asked, "What are you doing driving it out here?" He concluded, "It was good to educate people on the kind of range you can get [and] the charging opportunities. It was a pretty good experiment, even for myself… it was fun." It's no wonder the Tesla Model X has been called the ultimate adventure vehicle.
Article originally published on evannex.com by Matt Pressman. EVANNEX offers aftermarket accessories, parts, and gear for Tesla owners. The Florida-based company also maintains a daily blog on the latest Tesla news.