'Black Panther' Prompts Mickey Mouse to Donate $1 Million to Charity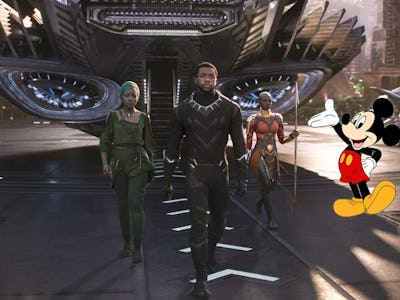 Marvel Studios / Walt Disney
Disney continues to make a ton of money from Black Panther every day, and to celebrate that, the House of Mouse is making a huge donation to charity that'll help the next generation of scientists thrive.
Disney CEO Bob Iger announced on Monday that the company would donate $1 million to Boys & Girls Clubs of America, which will use the funds to establish new STEM-focused educational centers around the country. Children in major cities like Atlanta, Baltimore, Chicago, New York, Philadelphia, and Washington will get additional means of education in science, technology, engineering, and math. The centers will also give children access to resources in 3-D printing, robotics, and video production.
"It's fitting that we show our appreciation by helping advance STEM programs for youth," Iger said, "especially in underserved areas of the country, to give them the knowledge and tools to build the future they want."
Disney's literally banking on the film inspiring children around the country to pursue an interest in science and build a world that might just look like this one day:
In Black Panther, fans were introduced to the fictional nation of Wakanda, an isolated but thriving technological superpower in the heart of Africa. The nation is the pinnacle of scientific innovation in the MCU thanks to its rich stores of Vibranium, but by the film's end, the new king T'Challa vowed to share the nation's resources and knowledge with the world.
The Marvel Cinematic Universe has depicted incredible — and very fictional — achievements in science since the very beginning. Tony Stark's innovations as Iron Man and Bruce Banner's brilliance as a biochemist and physicist are notable. But Black Panther's depiction of Wakandan technology takes the MCU to new heights, offering up a more diverse representation of what people can achieve through science.
Black Panther also introduced us to Princess Shuri, the smartest person in the world whose inventions and innovations with Vibranium are nothing short of brilliant. The character steals every scene she in during Black Panther.
Now Shuri's an inspiration to people around the world, and because of Disney's donation, children around the country will have their own labs and resources that'll allow them to innovate.
Black Panther is currently in theaters.