Only One New Character from 'The Punisher' Season 2 Is from the Comics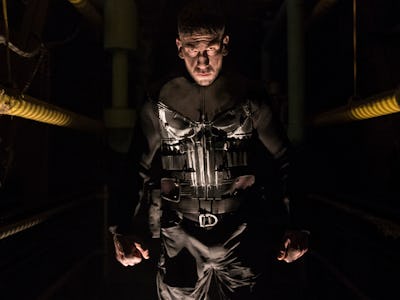 Netflix
The Punisher is going to deal with some new faces in the upcoming second season of the gun-toting vigilante's Netflix series, but unless we're being mislead, only one of them will be familiar to comic readers. And, even then, she's not the most notable character.
Actors Josh Stewart, Floriana Lima and Giorgia Whigham are the new series regulars joining star Jon Bernthal in The Punisher for its upcoming second season, Marvel announced on Monday. While we don't how, exactly, these new additions will impact Frank Castle's life, we do have some details about who the actors will play. Stewart's "John Pilgrim" is a calm man who is hiding a ruthless interior that will be brought into the Castle's violent world even though he has left that part of his life behind. Lima will play the compassionate and smart psychotherapist "Krista Dumont" who works with military veterans, while Whigham has been cast as street-smarter grifter "Amy Bendix" whose past is shrouded in mystery.
At the moment Amy Bendix is the only character whose name has a connection to Marvel's comic book universe. Bendix is the daughter of a sheriff who crosses paths with Frank Castle, though she only appears in a handful of comic issues starting with The Punisher: War Zone #24 in an arc titled "Suicide Run."
The other two new additions could turn out to be comic book characters whose current names are an alias to conceal plot points. Jessica Jones added Leah Gibson to its second season as a character named Ingrid, but fans have speculated she will play Marvel villain Typhoid Mary. Likewise, fans suspect Wilson Bethel Daredevil Season 3 character will turn out to be Sin Eater. His character is described as an FBI agent with an important role in the battle between Daredevil and Wilson Fisk.
"We are incredibly excited to have Josh, Floriana and Giorgia joining the cast of Marvel's The Punisher and seeing them bring their talents to the next chapter in the Frank Castle story," Showrunner and Executive Producer Steve Lightfoot said about the new additions.
They will join returning actors Bernthal, Ben Barnes, Amber Rose Revah, and Jason R. Moore. Interestingly, Ebon Moss-Bachrach who played Castle's ally Micro is not on the confirmed returning character list. While the first season ended with Micro getting his life back, Moss-Bachrach did discuss what he hoped to see for his character in future seasons and he is one of the only friends Castle has left.
The Punisher Season 2 does not have a premiere date yet.