'SpongeBob SquarePants' Cancelation Rumor Is a Hoax — and an Old One
'SpOnGeBoB sQuArEpAnTs' Is EnDiNg On MaRcH 1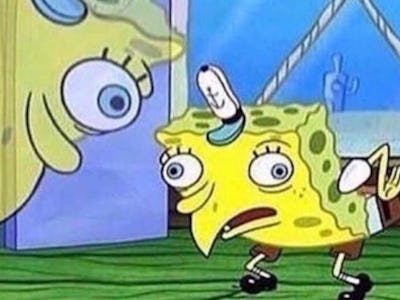 Nickelodeon 
When it comes to Twitter hoaxes, we may be reaching the Bikini Bottom of the barrel. Nickelodeon fans were blindsided by news that SpongeBob SquarePants would be drawing to an abrupt end on March 1. Since the show has been on the air since — jeez — 1999, this would have been quite a shocking cancelation. Fortunately, the story was a prank, and there's at least one more season of SpongeBob to go.
The hubbub started over the weekend when a fake, photoshopped Tweet purported to be from the official @SpongeBob account, started making the rounds on Twitter, Facebook, and other social media platforms.
"Unfortunately, our show will be coming to a final end as of March 1st, 2018." the bogus tweet read. "It's been a long ride, and we are very grateful for all the fans worldwide that have shown support throughout the years, none of this would have been possible without you. 💛"
The real @SpongeBob Twitter account, however, has tweeted no such thing. The current season of the show, Season 11, isn't even done, as there are some scheduled episodes that have yet to air. Beyond that, in May of 2017, Entertainment Weekly reported that Nickelodeon had renewed the series for a 26-episode Season 12, set to premiere in 2019.
It's not the first time that SpongeBob has been plagued with false cancelation rumors. In 2016, an image proclaiming an October 17, 2016 finale date fooled some fans, and a similar hoax fooled people in 2014. Way before that, there were rumors that the show might've been headed for cancelation back in 2002 when a fake story about a kid drowning while trying to look for SpongeBob started making the rounds on email.
None of these rumors have been even remotely true, so SpongeBob fans can stop acting like Mr. Krabs in that one swirly meme.