Nokia's 8110 Redesign Shows Why Button Phones Aren't Dead Yet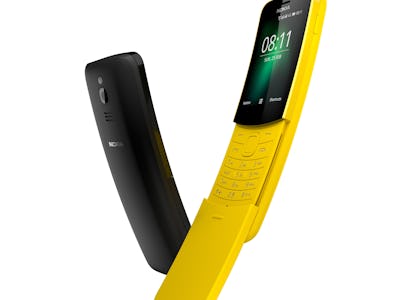 HMD
Nokia is getting retro again. After the launch of the updated 3310 last February, HMD Global is back with a redesigned version of the slide phone featured in The Matrix, the iconic 8110. In a world of iPhones and Samsungs, the unique style of the company's model revealed Sunday shows buttons can stand out in a world of touchscreens.
The new models packs all the features that'll make users nostalgic for 1996, when the original launched. It has a sliding opening mechanism, a battery life that lasts for 25 days on standby, a version of the Snake game hailed as a Nokia classic, and a full keypad of buttons.
A number of changes bring the new device into the 21st century. There's a Snapdragon 205 processor, backed with 512MB of RAM and 4GB of storage, powering a 2.4-inch 320 by 240 display. On top, there's a micro-USB port and a 2.5mm headphone jack. Unlike the 3310, the device also supports LTE networks.
However, much like the original phone, the new version won't run Android apps. Instead, HMD's device runs on the Smart Feature OS that provides a limited selection of apps like Facebook, with an app store to download more.
The new 8110 is set to launch in May, with the company claiming a global average retail price of €79. That equates to just under $100, making this a decidedly entry-level device. Those that want a similar-priced phone with a full app store may like the Nokia 1, which will ship with Android Oreo Go edition and is designed to offer full access to the Google Play Store. Retailing for $85, with covers sold at $7.99, the 1 offers a similar price to the 8110, but with a touchscreen display, it's design looks rather similar to existing phones on the market.
The company is also launching three smartphones around the same timeframe, all of which will ship with pure, unchanged Android Oreo and will be sold as part of the Android One family:
The 8 Sirocco, retailing for average €749 ($922) with a focus on "craftsmanship," has a 2K resolution 5.5-inch curved edge-to-edge screen, dual rear cameras with 2x optical zoom and a 13-megapixel sensor on the zoom lens, and a stainless steel frame two-and-a-half times stronger than 6000 series aluminum.
The 7 Plus, retailing for average €399 ($491) and billed as a "flagship hero," has a Qualcomm Snapdragon 660 processor powering a 6-inch screen with a long 18:9 aspect ratio.
The New Nokia 6, retailing for average €279 ($491), is an upgrade to the January 2017 smartphone and makes a number of key changes. It's 60 percent faster, supports USB-C fast charging, and packs the Snapdragon 630 with up to 4GB RAM and 64GB storage.