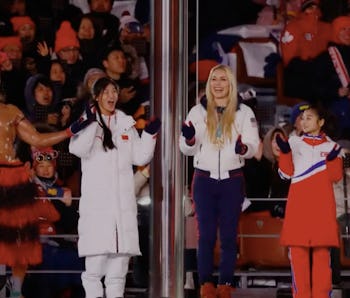 Entertainment
Here Are the Best Moments From the Winter Olympics Closing Ceremony
Yes, the shirtless Tongan was there, and he was again shirtless. 
The 2018 Winter Olympics wrapped up today in Pyeongchang, South Korea. The closing ceremony featured the iconic march of flag-bearing athletes, musical performances from some of K-pop's biggest acts, a pair of skating (and flying!) pandas hearkening to the 2022 Winter Olympics in Beijing, and, deserving of his own category altogether, everyone's favorite shirtless Olympian, the Tongan athlete Pita Taufatofua.
What took place in the arena was only half of the story, however, considering the political happenings behind-the-scenes (and in the arena seats) that were just as interesting and more consequential.
On Saturday, it was revealed that Russia hacked the opening ceremony and tried to push the blame onto North Korea, as payback for its athletes being banned from competing under the Russian flag. Then, the South Korean president released a statement saying that North Korea would be willing to hold talks, though there was no talking between Ivanka Trump and Senior North Korean official Kim Yong Chol, despite their close seating arrangements during the closing ceremony.
Here are some highlights from the event…starting, of course, with Pita Taufatofua.
Taufatofua learned skiing in three months and placed 114th out of 119th in his event, the 15-km cross-country ski. Apparently, his goal was not to place last, and he certainly succeeded there…and stole the show at the closing ceremony:
K-pop stars Exo had a seven-minute performance that started with two traditional dancers on stage and ended with their group performance, complete with an army of back-up dancers:
As with the opening ceremony, drones returned to the closing, forming a giant white tiger (the official mascot) in the sky:
Then, to get everyone excited for the next Winter Olympics, to be held in Beijing in 2022, skating/flying pandas took to the ice:
Meanwhile, offstage, First Daughter Ivanka Trump, sat in the same VIP box as the emissary from North Korea, a hint of just how political the Pyeongchang Olympics were. They did not, however, speak.
Until 2022, everyone!