This Wrongfully Convicted Inmate Has a Job Overseeing the Houston Crime Lab
You can trust a man who's had his execution date set to care about solid evidence.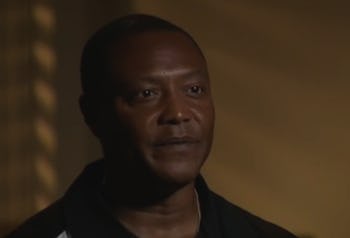 NBC
You're not going to find anyone more dedicated to making sure Houston's crime science stays on point than a man who spent 12 years on death row.
Anthony Graves began hearing rumors that he was under consideration for a spot on the Houston Forensic Science Center's board of directors — a post that would put him in a position to help the city prevent wrongful convictions.
Five years after he was exonerated for the murders of six people, Anthony Graves has been appointed to the board of the Houston Forensic Science Center. The Center was created to oversee the city's crime lab in 2013 after the investigators discovered an obscene wealth of fucked up cases. Evidence coming out of the crime lab had been tampered with, staff was improperly qualified, people lied, thousands of rape tests were left unreviewed, and evidence in hundreds of criminal cases was suspect.
Graves was arrested in 1992 at the age of 26 for the murder of Bobbie Davis, 45, as well as her adult daughter and four grandchildren. A co-defendant in that case, Robert Earl Carter was executed in 2000 and submitted a sworn statement saying his testimony implicating Graves in the death was a lie. Graves had an execution date set twice before the state's case finally fell apart.
It's been a good week for Graves' vindication, as the man who put him in prison was disbarred for prosecutorial misconduct just a few days before he was named to the board.
The Innocence Project estimates that about half of all wrongful convictions are the result of bad forensic work, and that while crime lab scientists still enjoy a sort of holy, unimpeachable reputation on the witness stand the industry's methods often wouldn't stand up to basic scientific scrutiny in any other field of research. Graves has spent his years as a free man touring the country and speaking out for reforms. Even is he doesn't have a PhD, he's at least passionate about making sure the truth gets out, and that's more than we can say for the last group Houston trusted with their forensic evidence.