Litecoin Price Surges Despite Scam Warnings After Sunday's Hard Fork
Litecoin Cash is also performing well.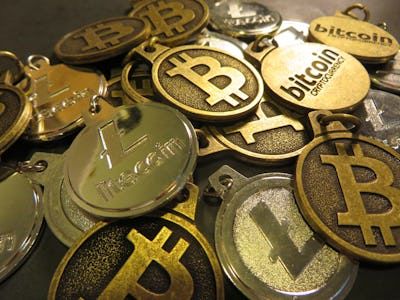 Flickr / btckeychain
Litecoin and Litecoin Cash are both surging in value, with the latter doubling in value over the space of 24 hours. The cryptocurrency aimed at working as "the silver to Bitcoin's gold," according to its creator, seemed unaffected by a "fork" project that promises a more widespread use of mining hardware.
The price of a single Litecoin token ranked at $245.75 on CoinMarketCap on Tuesday, a 9.22 percent increase in value over the 24-hour period. The total market cap of $13.6 billion places it securely as the fifth-largest cryptocurrency on the market. Unlike bitcoin, which has an average block time of around 10 minutes, Litecoin offers block times four times faster.
Litecoin Cash, meanwhile, is also enjoying a moment in the sun. Starting off from Sunday's fork at a price around the $1.44 mark per token, Litecoin Cash is now worth $9.18 according to CoinCodex, with a 24-hour trading volume of $17.86 million and a staggering increase in value of over 103 percent. Before the Sunday split, Litecoin holders received 10 Litecoin Cash tokens for every Litecoin token they held at that point.
Litecoin Cash makes a number of small changes from the project it split from, the most notable being a switch from the Scrypt algorithm for mining to SHA-256 that allows older hardware to create new tokens on the network. Because the token uses a similar name to Litecoin — in a similar fashion to the "Bitcoin Cash" project that launched in August 2017 — community members fear confusion between the two.
"The Litecoin team and I are not forking Litecoin," Charlie Lee, creator of the original Litecoin, said on Twitter prior to the fork. "Any forks that you hear about is a scam trying to confuse you to think it's related to Litecoin. Don't fall for it and definitely don't enter your private keys or seed into their website or client. Be careful out there!"
Others have questioned the value Litecoin Cash brings to the cryptocurrency market.
"Litecoin Cash doesn't bring anything to the table," Trevor Gerszt, CEO of crypto investment service CoinIRA, told Inverse last week. "It touts that it has more coins and faster transaction times, but Litecoin already has more coins than bitcoin, and Bitcoin Cash was developed to solve the problem of slow transaction times."
Whether Litecoin Cash has questionable value or not, it seems the split has brought new attention to Litecoin's mission.
**If you liked this article, check out this video about Litecoin's cmeme-loving Internet Dad.