Dollar Beard Club is Dollar Shave Club's Mortal Enemy
Will you like us because you liked that other thing?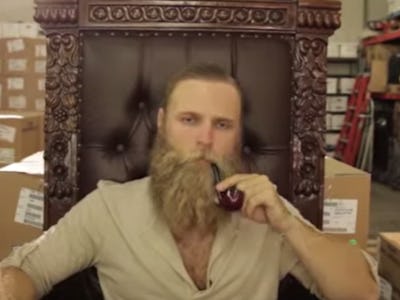 Dollar Beard Club
Proving that the whiskered can be just as paradoxically self-aware and conceited as their smooth-cheeked counterparts, the Dollar Beard Club has staked its fortune on a spoof of Dollar Shave Club's viral video.
Pulling up just short of asking "You mad bro?" direct to camera, company founder and video star Chris Stoikos gives you a familiar sales pitch, but promises that when you buy from him you "sure as hell won't be receiving any fucking razors." The Dollar Shave Club, which garnered nearly 20 million views with its kick-off vid, has been quiet on the parody. Too quiet.
Stoikos' plot got attention, so he can definitely give his beard a slow stroke of satisfaction. But who knows how long he'll have Brooklyn hipsters on his client sheet? Scientists have been saying for a while now that we've reached peak beard, a warning which, like so many others about exploiting our natural resources, will probably go unheeded until it's too late.