This Service Lets You Sign Any Electric Document Instantly
Get a lifetime KeepSolid Sign subscription for 95% off.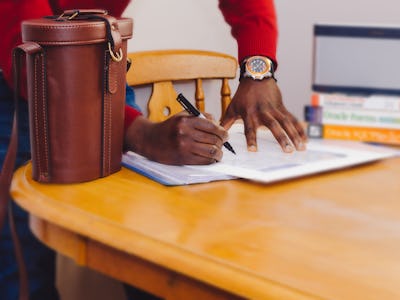 Unsplash / Olu Eletu
It's a digital world we live in, baby. That means it's not just possible to earn a living working remotely definitely not in our underwear, but it's positively widespread. The remote workforce is growing, and more and more people are becoming digital nomads. But as glorious as it can be to not have your boss looking over your shoulder while you watch Futurama in the middle of the workday, which I am definitely not doing, remote working isn't without its drawbacks. It can be challenging to transact and collaborate with people halfway across the world with all the documents that you have to manage. And it's even harder when you have to do it all on paper.
Luckily, KeepSolid Sign has a solution. They've created an easy-to-use service that lets you do your least favorite part of the freelance lifestyle, the paperwork, remotely.
KeepSolid Sign is a digital e-signature program that makes the process of signing and finalizing contracts much, much easier. It enables you to get deals done in a matter of minutes, from anywhere in the world and on any device. Through the app, you can import and round up your documents and send them to all concerned parties in just a few clicks. You can monitor the status of your deals in real time, and even send reminders to certain participants.
The app is equipped with high-grade AES-256 encryption, so you're guaranteed that your documents are entirely secure. It also works offline, allowing you to create a digital signature, add annotations, or archive documents even without an internet connection.
A lifetime subscription to KeepSolid Sign usually costs $479.95, but for a limited time, Inverse readers can get it now for only $19.99.