Get Cooking with These 25 Life-Improving Kitchen Items on Amazon
These amazing items will up your cooking game.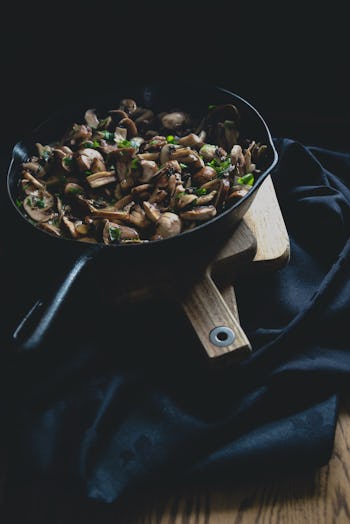 Unsplash / Sébastien Marchand
If you're on a mission to eat right, order less delivery, or simply not to house cereal out of paper bowls you've been hanging on to since college, a good, clean, functioning kitchen is the best way to facilitate such a lifestyle.
Buying kitchen goods can feel like a chore, not least because kitchens feel like a chore a lot of the time. What, you have to do a bunch of cooking and also everything gets filthy and you have to clean up? What a scam. The best way to combat your resentment or dread towards the very act of cooking something nice is to get some good stuff. Here are 25 items that'll give your kitchen, and your food, some much needed upgrades.
Not only a good cookware set for people just starting out, or moving somewhere new, but a good cookware set period. Epicurious's line is stylish, useful, and easy to clean. [Amazon, $159.99]
What's the point of a good knife if the blade's dull? This low-key sharpener keeps all your knives good and slick. [Amazon, $17.95]
Japanese steel is the way to go when it comes to kitchen blades. This 17-piece set has something for just about any job your could throw at them. [Amazon, $167.99]
Throw out those three forks and mismatched spoons you got from IKEA before college, it's time to get some adult cutlery. [Amazon, $69.95]
God forbid you still keep a bottle opener on your keychain (or, worse, remember when people would have them on their belt buckles?) [Amazon, $11.95]
A good, sharp set of steak knives can really elevate a date night. Don't make your date try to cut a steak with a butter knife, please. [Amazon, $19.95]
These towels's blend of cotton and microfiber make for an attractive, versatile way to wipe down just about any surface. Machine-washable, too. [Amazon, $14.95])
It's probably best you stop drinking merlot out of a Simpsons mug sooner rather than later. [Amazon, $19.99]
Easy to wash and capable of handling just about any job you can throw at them, these silicone utensils are here to help you ladle, to help. you… tong stuff. You get the idea. [Amazon, $25.95]
Never before has opening a bottle of wine been so easy. Just clamp it down and pop the cork out in a matter of seconds. A marvel of engineering. [Amazon, $24.99]
For those who want to bring a bit of a European vibe into their kitchens, an electric kettle is an essential item that still, amazingly, hasn't found its way into many American homes. The Epica has six different heat settings, so you can choose exactly the right temperature for brewing coffee or cooking up some pasta. [Amazon, $39.95]
After you get acquainted with the new wave of coffee grinders, you might want to get on board with the Bialetti, by far the easiest and coolest way to make a cup of great espresso at home. [Amazon, $26.99]
The Thermos can insulator keeps canned drinks colder ten times longer than just leaving them out wherever. And, let's be honest, beer cozies are a damn joke. [Amazon, $8.99]
An affordable laser thermometer is the feather in the cap of any at-home chef of any skill level. It'll keep you from getting sick when you cook a rack of ribs, and it's so cool it'll make you feel like Iron Man when you use it. [Amazon, $14.95]
The traditional oven glove is dead; a husk of its former self. An ineffective concept ravaged by time and tainted by so many first-degree thumb burn scars. You deserve better, like these five-finger oven gloves that can withstand temperatures of nearly one thousand degrees. [Amazon, $25.95]
Good for choppin' stuff, or even serving cheese on if you want to look super grown-up and fancy. [Amazon, $19.99]
Learn how to make an Old Fashioned then serve it in this. You'll never need to go to a bar again. [Amazon, $29.95]
These super cool-looking utensils will fit right in in any kitchen, and that nice finish doesn't chip off on their first run in the dishwasher, we promise. [Amazon, $34.99]
because you, and your nightly bedtime bowl of Frosted Flakes deserve better. [Amazon, $34.95]
A rugged and well-insulated mug for people who want a no-frills but solid and attractive coffee vehicle. [Amazon, $13.99]
I'm sorry to have to be the one to break it to you, but most candle holders are, in a word, hideous. Here's one that breaks the mold, and will elevate your dine-in nights to something special. [Amazon, $24.88]
Blends stuff. Not too noisy. Quite small. Good. [Amazon, $69.99]
If you're not quite ready to pull the trigger on the millennial appliance of choice, the Instant Pot, just yet, this well-sized and nicely-designed rice cooker is a great start. [Amazon, $18.99]
Up your morning coffee game in a BIG WAY for the price of about 20 cups of Starbucks coffee. it's a small price to pay. [Amazon, $105.97]
This pre-seasoned dutch oven can handle any kind of curry, stew, casserole, soup, or sauce you want to throw at it. The lid doubles as a skillet, too. What can't this thing do? [Amazon, $39.95]