Tessa Thompson Comments on When an All-Female Marvel Movie Will Happen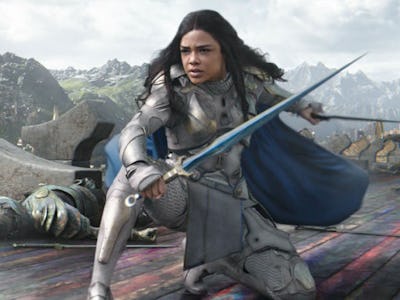 Marvel
If you have an all-female Marvel superhero film on your wishlist, then there's a chance your wish might come true soon enough. Thor: Ragnarok actress Tessa Thompson has just given fans a reason to be hopeful.
While on the red carpet Tuesday night for her upcoming sci-fi film Annihilation, Thompson said she was hopeful for an all-female film set in the Marvel Cinematic Universe. She also told IGN on Tuesday that there's "an interest" in spotlighting women in Marvel's Phase 4.
"I'm not Marvel so I can't make it happen," she said, "but I can tell you that Marvel is hugely collaborative." She used Thor Raganarok, the film which included Thompson's debut as Valkyrie, as an example of the collaboration by saying Chris Hemsworth and Mark Ruffalo had a voice in the next chapter of their characters' storylines.
In an interview with Comic Book Resources last year, Thompsons said she'd pitched an all-female film with along with Marvel actresses Scarlett Johansson, Zoe Saldana, Pom Klementieff, Karen Gillan and Brie Larson. During a discussion about potentially working together in an Avengers installment, they talked to Marvel Studios President Kevin Feige because they wanted to have a film where they were sure to be working together.
Phase 4 has added many strong female characters to the MCU. In addition to Valkyrie, Black Panther has several dynamic female characters and The Wasp is making her debut in the upcoming Ant-Man and The Wasp. Marvel is also finally making female-led films. Captain Marvel is in production and the development of a Black Widow solo film was recently announced.
Marvel would not be the first franchise to produce an all-female ensemble story. The Ghostbusters film series' most recent film starred four actresses, including Melissa McCarthy and Leslie Jones. And the upcoming all-female Ocean's 8 features Sandra Bullock, Mindy Kaling, Awkwafina, and Rihanna are among the actresses playing the members of the heist crew.
Marvel may not have confirmed any sort of Marvel female team-up, but fans should feel confident knowing the Valkyrie is working to make that happen.