This Programmer's "Crying in Public" Map Is Too Relatable to New Yorkers
Document your tearful memories here.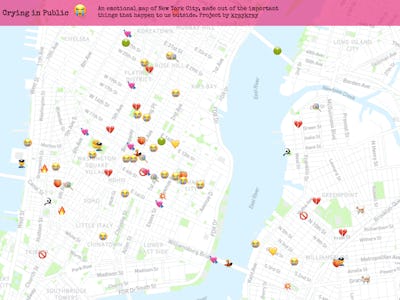 Crying in Public
Just in time for Valentine's Day, a newly-launched site called Crying in Public has us weeping with joy. After all, what better activity to go with a box of chocolate than with a collective internet tool to help track your public cries over the years?
If you've ever cried on the subway or in a dark bar, you'll appreciate this tool that allows you to map out exactly where the tears came.
The project, created by New York City-based programmer Kate Ray, aims to create an "emotional map of New York City, made out of the important things that happen to us outside."
"This is a place for you to record stories about your personal moments in public spaces," the site's prompt advises. "Your pins will be shown on the homepage, but not associated with you. You can share your map if you want though."
Using a Google Map of New York, the tool allows you to add corresponding emojis to things you've done in public, with the crying emoji being the most prominent, of course.
Other emotion-fueled activities include the dancing girl emoji, which signifies "dancing in public," the flame emoji for "got fired," and a pink heart emoji for "fell in love." There are even some fun New York-specific activities, such as a cat emoji signifying that time you "met a bodega cat."
Ray encourages visitors to create their own Crying in Public site, which can be shared on social media and with friends and family. If you're not ready to go public with your tearful memories, you can sign up and make a private map for your welled-up eyes only.
Soon enough, Twitter took notice of the tool, with users sharing their own Crying in Public maps on the timeline.
That's one way to turn your sadness into content on Valentine's Day.