As 2018 Flu Season Worsens, Treatments Become Unexpectedly Creative
Sooner or later, hand washing and vaccination just won't cut it.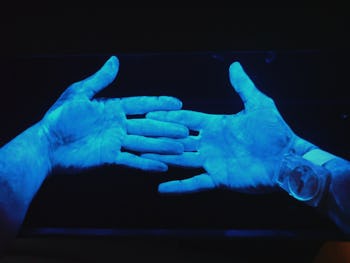 Flickr / weegeebored
The 2017-2018 flu season has taken a turn for the worse, as hospital emergency rooms overflow with people ravaged by the potent H3N2 strain of influenza A. In a conference last week, the acting director of the U.S. Centers for Disease Control and Prevention, Anne Schuchat, announced that things will get worse before they get better, so keeping the spread of the flu contained is paramount.
Doing so by traditional means like hand-washing, vaccination (it's not too late!), and antiviral drugs is our best bet, but if those don't work out, we have a couple of new — albeit as-yet-unapproved — options.
Shionogi and Co's Experimental Drug
Most intriguing is an experimental drug developed by Japanese drugmaker Shionogi and Co. that supposedly kills the flu virus within a single day. In a report by the Wall Street Journal this week, Shionogi representatives said that their drug works three times faster than Tamiflu, one of the standard antivirals recommended by the CDC, and it relieves symptoms even faster.
The drug is said to be more effective because it uses a different method than the others: While existing antivirals work to prevent virus particles from escaping after they've replicated inside a body's cells, the new drug stops viruses from entering cells in the first place, a method honed on anti-HIV drugs. Japan's drug regulating body is fast-tracking the drug, which could lead to it being used as early as March; unfortunately, even the best estimates don't see the the drug being approved in the U.S. until next year.
Ultraviolet Light
This week, a study from the Center for Radiological Research at Columbia University Irving Medical Center published in Scientific Reports showed that continuous low doses of far ultraviolet C (far-UVC) light can kill flu virus particles while they're airborne. Crucially, shooting out rays of far-UVC won't harm human tissues, either. The idea is that public locations, like airports and schools, can install far-UVC bulbs overhead to ensure a sanitized environment.
Scientists have always known that broad-spectrum UV light could kill viruses and bacteria on the spot (it fries their DNA), which is why it's used to sanitize surgical tools at hospitals. But unfortunately, it causes cancer and cataracts in humans, so installing that type of UV light everywhere is not an option. The breakthrough made by the Columbia University team is discovering that far-UVC light can't penetrate human skin cells and thus isn't a hazard; it can, however, pierce through microbial cells because they're much smaller than ours. They've already shown it can kill the H1N1 strain of the flu virus when it's aerosolized without harming humans, so follow-up research will need to show that it's effective in other settings. At $1,000 per lamp — and requiring no effort on civilians' part — it could prove to be an efficient, cost-effective intervention.
Traditional Methods are Key
Despite the exciting potential of these new treatments, until Shionogi and Co.'s drug gets approved by the Food and Drug Administration and Columbia University convinces institutions to start investing in far-UVC lamps, we have no choice but to make the best of the flu-fighting options we've got. The CDC is adamant we don't forget it: on Wednesday, in a Valentine's Day-themed love poem, it tweeted a reminder of exactly what those options are: