'The Greatest American Hero' Reboot is Already Making History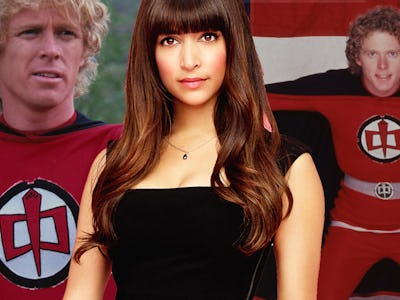 20th Century Fox
Believe it or not, Hannah Simone is walking on air. The star of the Fox sitcom New Girl, entering its final season, is tapped to star in a reboot of the 1981 cult superhero show, The Greatest American Hero. The reboot is already noteworthy in that it will be the first superhero series to star a woman of color.
On Monday, Deadline reported Simone will star in the new series as as Meera, a 30-year-old woman from Cleveland who "loves tequila and karaoke" and has spent her life "failing to find meaning, much to the chagrin of her traditional Indian-American family." After obtaining a goofy red costume, Meera is granted superpowers and is tasked with saving Earth.
The series is being developed by Fresh Off the Boat writer/producers Rachna Fruchbom and Nahnatchka Khan, under their group Fierce Baby Productions. News of a reboot initially surfaced in September 2017. From the get-go, the series was going to be star a woman of color in the lead role.
Though today's TV is packed with spandex, Greatest American Hero will break ground as the first woman of color-led superhero show. Most TV superheroines have either been white, such as Lynda Carter's Wonder Woman and Krysten Ritter in Jessica Jones, or co-starred with men, such as in Legends of Tomorrow, Power Rangers, and Batman (Yvonne Joyce Craig as Batgirl). Though there have been female superheroes of color on TV, they haven't led a series until now.
The original Greatest American Hero, which ran for three seasons on ABC, was created by Stephen J. Cannell, who also produced other '80s staples like The A-Team and 21 Jump Street. In the original, William Katt played Ralph Hinkley (renamed Hanley), a divorced substitute teacher from Los Angeles who is given superpowers by aliens during a field trip.
Aside from its awkwardly perfect theme song sung by Joey Scarbury, the show is best remembered for Ralph's red costume and scissors-shaped chest emblem. Oddly enough, Ralph's symbol also resembled the Chinese character for "center," also a tile in mahjong. In Hong Kong, the show's title roughly translated to Flying Red Center Hero.
Surprisingly, this won't be the first time the franchise starred a woman. In 1986, a pilot for NBC was produced titled The Greatest American Heroine, which picked up where the ABC series left off. Starring Mary Ellen Stuart as a teacher named Holly Hathaway, Holly is picked by the original characters to take up Ralph's mantle. The pilot failed to pick up the series, and was re-edited into the show's syndication as the "final episode."
There is not yet a premiere date for The Greatest American Hero.