What Is U.Cash? The Cryptocurrency for Retail That's Spiking
The cryptocurrency wants to change how people bank.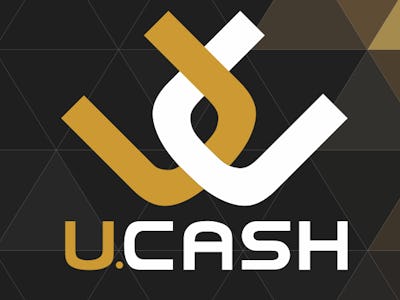 U.Cash
A little-known cryptocurrency has jumped in price almost overnight. U.Cash, which promises to be a token with better real-world use for retailers, was the best performing crypto token on Monday. Its surging value, with seemingly no major event tied to its spike, has led some to suggest that investors are being caught at the center of a "pump-and-dump" scam by third parties.
The cryptocurrency has has a tremendous 24-hour rally. At the time of writing, the token saw by far the largest gains on cryptocurrency tracker CoinMarketCap, which logged a 400 percent rise in value to reach 18 cents per token in value. Its $1.6 billion market cap places it as the 22nd-largest token on the market, with 8.6 billion tokens in circulation.
The team has a simple mission statement:
Our mission is to build a global network of retail and individual converters providing cash to digital conversions to and from our ecosystem, helping people worldwide to unbank.
U.Cash has reasons to be positive about its future success. The team posted a video on its Facebook page last week that showed it has recently moved into new offices. Its "initial bounty offering," where parties are rewarded for their contributions to the project rather than through buying tokens, completed last month. Its founder has big plans to grow the project and make it easier for people to buy cryptocurrency.
"We're finding that South East Asia is really where the next frontier of growth is going to be, and is actually where a lot of our user growth and traction has come from," Brian Phan, founder of the cryptocurrency, said in a pre-recorded video.
However, some are fearful that its sudden rise is less about strong prospects for growth, and more about internet groups looking to make a quick return.
"With just $4.17 million in 24-hour trading volume, it is evident this U. Cash price trend is a pump-and-dump cycle first and foremost," cryptocurrency writer Jean-Pierre Buntinx wrote in his story for The Merkle.
"Pump-and-dump" is a scam operated by online cryptocurrency groups, where people agree to buy a tiny cryptocurrency all at once and then sell to make a profit. The rationale is that third parties will see the rising coin and join in, helping the scammers in on the plan to sell and reap the rewards.
"They are 90 percent a scam to take money and the ones at the top will always win," Brad Spann, a member of one such group, told The Outline.
As with any investment, it's always best to remain cautious.