Elon Musk Just Shared His Incredible Reaction to Falcon Heavy Launch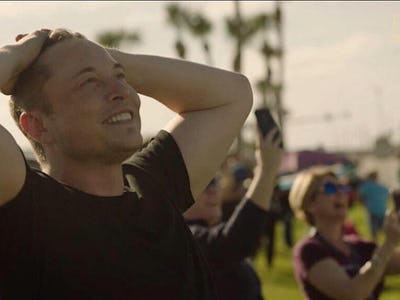 Elon Musk/Instagram
Elon Musk has made history. The CEO of SpaceX was spotted with a beaming grin on his face as he watched the Falcon Heavy take off for the first time last week, lifting a Tesla Roadster into orbit. On Monday, Musk shared some of his favorite scenes from the launch of the world's largest rocket.
"Falcon Heavy engine plumes look like giant laser beams in this photo by @rocketphotography [rocket photographer Alan Walters]," Musk stated on a caption added to an Instagram photo posted on Monday. "Now, if I can just figure how to attach those to a really big shark …"
Join our private Dope Space Pics group on Facebook for more strange wonder.
His account also posted images of an awe-struck Musk, watching his creation jet off into space for the first time ever. The images are from a documentary captured by National Geographic. The crew, filming for the second season of MARS that is set to return in the fall, caught the key moment when Musk's company launched its creation for the first time ever.
"Holy flying fuck, that thing took off," Musk said seconds after the rocket left the ground.
See the "giant laser beams" shot below:
Watch the documentary moment below:
The launch builds on the success of the Falcon 9 with a reusable rocket system capable of lifting 141,000 pounds into space. The first stage is comprised of three cores from the company's previous rocket system, offering 5 million pounds of thrust at liftoff. The Saturn V is the only rocket to ever deliver a larger payload into orbit.
Musk has no plans to stop right now, though. After a successful test launch, attention now turns to the SpaceX launch schedule that lists a number of missions for the new rocket. This includes a ViaSat broadband satellite and an Immarsat I-6 mission.
Beyond that, SpaceX is working on an even more powerful rocket to send people to Mars. The BFR — an abbreviation short for "big" and "rocket" — will carry payloads of up to 150 tons, with 31 Raptor engines providing 5400 tons of liftoff thrust. If all goes to plan, the company plans to use the reusable rocket to send humans to Mars as soon as 2024. Expect more big Musk reactions like this in the future.