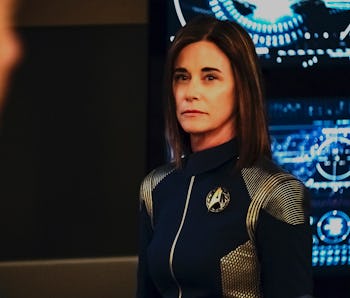 Entertainment
Jayne Brook Responds to 'Star Trek: Discovery' Lethe/Cornwell Fan Theory
CBS
Perhaps the secret most popular character of Star Trek: Discovery is badass Starfleet Admiral Katrina Cornwell. She'll take your starship away from you if you start acting crazy, and she has no problem using a phaser to blow up shit on your desk. But, is Cornwell destined to become an obscure character from the original Star Trek? Will this strong, fearless leader become a woman in a space-age mental institute who pulls a phaser on Captain Kirk? The woman who plays Cornwell, Jayne Brook, says probably not.
Spoilers ahead for the first season of *Star Trek: Discovery.
Back when the sixth episode of Star Trek: Discovery aired, a strange fan theory started making the rounds through the subspace chatter of Trekkie fandom. Because her haircut is somewhat similar to an original series character named, some started to speculate that at some point in Discovery's future, Cornwell cracks-up and becomes Lethe, a woman in a Federation penal colony in the classic series episode "Dagger of the Mind." The fact that the sixth episode of Discovery is called "Lethe," only makes this theory seem more legit. But Brook says, that it's probably not going to happen.
"That has never been said to me," Brook told Inverse. "I'm not aware of that. The writers will surprise me if they try to work that in! But honestly, now that it's out there, if they had been thinking of it, and not mentioning it, they probably wouldn't do it now anyway."
But, even without a bizarre twist ahead for her character, Brook says she is excited to return for the second season of Star Trek: Discovery.
"None of us know exactly what the writers are up to in the writers' room," Brook says. "But I know I am coming back in the second season. And I hope Cornwell continues to be her fully-rounded self. They showed so many wonderful sides to her in the first season, and I hope they'll continue to build on that."
Star Trek: Discovery's first season is streaming in its entirety on CBS-All Access. The series has been renewed for season 2, but no release date has been announced yet.