Step Up Your Listening Game with These Bluetooth 4.2 Headphones
The Paww Bluetooth 4.2 Headphones put all others to shame.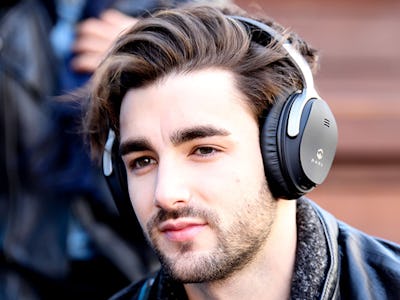 stack commerce
With all the Bluetooth headphones scattered across the web, you would think that finding a decent pair would be easy. But when is anything that easy? The market is flooded with affordable, cool-looking headphones, and it's hard to separate the good from the great (and the downright terrible). Some pairs are just plain bad. Some have active noise cancellation but produce terrible sound, and some look straight out of a sci-fi film. And when you finally stumble upon one that meets your standards, you'll end up disappointed when you see that the price requires you to take out a second mortgage.
A pair that doesn't compromise on sound quality, playtime, connectivity, and style, the Paww WaveSound 2.1 Low Latency Over-Ear Headphones will not let you down. They have built-in Bluetooth 4.2 technology, which is 250 percent faster and ten times more powerful than Bluetooth 4.0. I've been living a sheltered, contented life with Bluetooth 4.0 headphones for 18 months now, so I can only imagine how good these guys are. Their sound output is engineered to have an end-to-end latency of just 34 milliseconds, which means that visual elements sync with the audio in real time, making watching TV and playing games more immersive and enjoyable than your standard cable-free headphones allow. They also promise a 16-hour playtime, so you won't have to worry about getting cut off when you're on a jog, or when you're stuck in the subway.
Typically, the Paww WaveSound 2.1 Low Latency Bluetooth 4.2 Over-Ear Headphones would set you back $129.99, but Inverse readers can bring one home now for only $69.99. That's more than 40 percent off a price that already seems very reasonable.