Blockchain-Based Everipedia Reveals When Project Will Start Airdrop
The token airdrop is happening soon.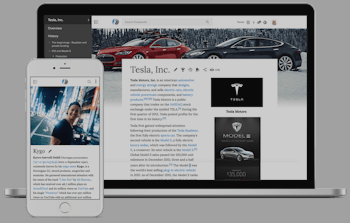 Everipedia
Everipedia is about to get on the blockchain. The free online encyclopedia, which counts a Wikipedia co-founder among its team, aims to use the technology that underpins Bitcoin to build a decentralized knowledge resource that rewards people for their contributions. The first step of that mission, handing out the initial tokens for free in an "airdrop," is imminent.
"IQ Tokens will be airdropped into the EOS distribution list in late February," Theodor Forselius, co-founder of the site, tells Inverse. "The Everipedia Network is planned launch together with the EOS main net in June 2018."
Unlike an "initial coin offering," where investors buy up tokens prior to launch, an "airdrop" does not require parties to directly invest in the project. An airdrop typically requires participants to hold some tokens on the network powering the system, which in this case is the EOS platform. It's a good way of building a widespread community, something that is critical to an encyclopedia that depends on user contributions.
Everipedia started life in 2015 as a Wikipedia alternative, and has since grown into the largest English language encyclopedia with six million articles. When the main net launches, Everipedia will take this information and become the world's first encyclopedia on the blockchain. Much like other cryptocurrencies, this means data won't be hosted on a single server, governments won't be able to shut down access to every distributor, and it's free from oversight from any singular organization.
That latter point is particularly important with Thursday's announcement that Everipedia has received a $30 million investment from Galaxy Digital, a merchant bank that co-manages the $325 million EOS.io Ecosystem Fund with Block.one. The team stresses that this investment can't affect the encyclopedia's content as it's a decentralized system.
"The point of a blockchain-based encyclopedia is that there is no central entity setting the narrative," Forselius says. "The knowledge base is decentralized, completely transparent and collectively owned by the community."
Watch an explainer of Everipedia below:
Through financial incentives, the team hopes to encourage people to contribute as much as they can, eclipsing Wikipedia and rivaling Facebook and Twitter as an information resource. The tokens, which will serve as a stake of the overall site, will help encourage growth. The team's latest investment will help reach this vision faster.
"The funding allows us to ramp up our development efforts, hiring more engineering talent and making a more complete knowledge network altogether," Forselius says. "It also allows us to aggressively expand our community building to other countries and to make Everipedia articles available in all major languages."
Everipedia's goal is ambitious, but it faces criticism. An October 2017 report from The Outline criticized the site for entertaining conspiracies and creating pages for non-public figures. A giant compendium of information may seem cool, but it will likely see intense scrutiny as it develops.