At Pyeongchang's Winter Olympics, the Toughest Sport Is Avoiding Norovirus
The runs might ruin a good ski run.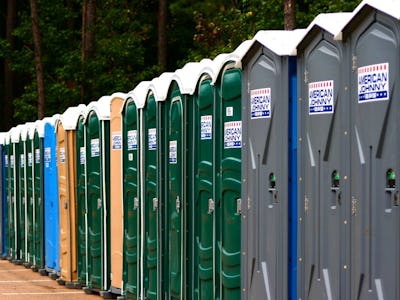 CDC
In between ski runs, snowboarding runs, and speed skating runs at the 2018 Winter Olympic Games in Pyeongchang, South Korea, athletes will be doing their best to avoid getting the runs. Norovirus began sweeping through Olympic athletes and staff, even before the opening ceremony on Friday. Officials have reacted quickly by distributing hand sanitizer, telling athletes and staff to wash their hands frequently, and asking everyone to practice proper coughing etiquette — into your arm, not into your hand. But it's too early to tell the effect the illness will have on the games.
As of Thursday, there were 128 confirmed cases of norovirus, according to a report from The New York Times. This illness, which can cause diarrhea, vomiting, nausea, abdominal pain, and fever, spreads very easily from person to person and can even be picked up by contacting surfaces with the virus on them.
With people gathering from all over the globe and packing together into their temporary housing accommodations, it's not a huge surprise that a disease like norovirus — which is sometimes called the winter vomiting bug — would spread.
"Dining halls are usually a disaster; everyone's touching everything," American speedskater Kimani Griffin told The Times. "We've definitely gone through every precaution we can take while traveling: wiping things down with Clorox wipes, hand sanitizing, face masks, gloves, whatever we can do prevent ourselves from coming into contact with it."
And while the illness isn't usually life-threatening, as long as a patient stays hydrated, it could potentially throw athletes off their game if they suffer diarrhea and vomiting in advance of their event. Unfortunately, there's not much that can be done besides treat symptoms, so prevention really is the best way to deal when it comes to a viral infection like norovirus, since you basically just have to wait it out and let your body fight off the infection.
Officials are reportedly not panicking yet, though they're not taking any chances, either. Vox reports that more than 1,200 guards have been quarantined over norovirus fears.
The disease incubates very quickly, usually revealing its symptoms in 12 to 48 hours after exposure, according to the Centers for Disease Control and Prevention. Fortunately, patients usually start to feel better after one to three days, so even if athletes get sick, their Olympic dreams won't necessarily be shattered. Time will tell how badly this norovirus outbreak affects the 2018 Winter Olympic Games.