'Star Trek: Discovery' Brings Back Retro Federation Seal in New Photos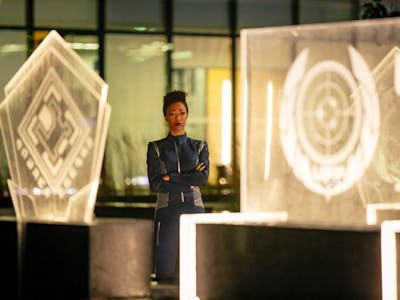 CBS
The voyages of the starship USS Discovery are about to boldly take a break. On Sunday, Star Trek: Discovery will air the final episode of its first season, and the stakes have never been higher for the Federation. New photos previewing the finale show Michael Burnham contemplating the United Federation of Planets, which teases an old-school Star Trek design.
No spoilers for the Discovery season finale ahead. Just official photos.
On Thursday, CBS released new promotional photos ahead of the season one Discovery finale, "Will You Take My Hand." In them, Sarek makes a few appearances, as does Mirror Georgiou, rocking evil all black leather. But the image of Burnham contemplating the seal of the Federation is probably the most striking. Where is she? What is she thinking about? And, is that the same version of the Federation seal from old-school Trek? The answer is yes.
The United Federation of Planets is a futuristic combo of the United Nations and aspects of an idealized democratic republic. But, the general design for the seal, obviously comes from the United Nations. Here's how the UN seal looks compared to the UFP seal, as seen in Star Trek: The Next Generation.
But, in the older Star Trek movies, before The Next Generation, the seal actually looked a little different, a design which Discovery appears to honor in this new scene with Burnham. Take a look at the seal in Discovery, next to the seal Kirk walks by in Star Trek: The Motion Picture.
The Federation was created in Trek's fictional history in the year 2161, which is right after the events of the prequel series Enterprise. However, before that, there was a kind of faux-Federation called the Coalition of Planets, which Captain Archer helped to create. The originally united planets during the time of the original series, and now, Discovery, include Earth, the planet Vulcan, Andor, Tellar Prime and handful of others. Though, by the 24th century of The Next Generation and beyond, there are a ton more. The different stars on the seal are thought to each represent a system that is part of the Federation, which is why there are more stars in the TNG era than in Discovery or the original series films.
So, what is Burnham thinking about in the finale of Discovery? The future of the Federation? And where is she exactly? All will be revealed soon. For now, here are a few more photos to get you pumped for the big final episode.
Star Trek: Discovery airs its Season 1 finale, "Will You Take My Hand?" on Sunday, February 11 at 8:30 p.m. Eastern on CBS All Access. Come back to Inverse on Sunday night after the episode for our full coverage, including an interview with Admiral Cornwell herself, Jayne Brook.