Deepfakes Still Exist, Amid Twitter and Pornhub Bans  
The Reddit-spawned videos keep getting in trouble.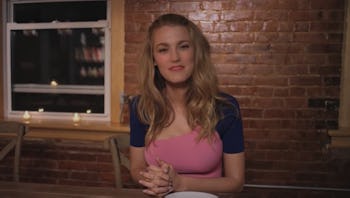 screenshot/One Nate Hundred/Youtube
Deepfakes continued to move closer and closer to revenge porn territory as Pornhub appeared ready to ban it from its platform Tuesday. The Reddit-cultivated genre of pornography uses A.I. technology to superimpose a person's face onto a porn star's body, creating videos that are part faux-real porn, and part uncanny valley.
Deepfakes were predominately being hosted for sharedom by Gfycat, but by the end of January, Gfycat began removing the x-rated gifs because of their offensive nature. Some deepfakes have ended up on Youtube, but they're of the more g-rated variety, like those that use the technology to superimpose Nicolas Cage's face into a bunch of movies.
Some of the x-rated videos have made their way over to Pornhub, the internet's most-visited source for NSFW content. On Tuesday, the site condemned deepfakes. At time of writing, Pornhub still offered 43 results under the search term.
A statement obtained by Inverse from Corey Price, Pornhub's vice president, said that the site takes a hard stance on content that is uploaded to the platform without the consent of individuals involved. "Regarding deepfakes — Users have started to flag content like this and we are taking it down as soon as we encounter the flags." he said. "We encourage anyone who encounters this issue to visit our content removal page so they can officially make a request."
They've also been spotted on Twitter, but the site is now making a concerted effort to ban deepfakes accounts, according to Motherboard, as posting "intimate media" without a subject's consent violates Twitter's terms of use.
There are a lot of nefarious uses for deepfakes other than just making fake celebrity porn — and it's easy to make. A relatively simple desktop app called Fakeapp was posted to Reddit's r/deepfakes subreddit, along with instructions that let users run a deep learning algorithm that helps them create their own deepfakes with a video and a set of images.
The subreddit r/deepfakes inspired another one, r/facesets, where users share thousands of face images of celebrities for making deepfakes.
Because deepfakes can be used to create virtually any video involving a body and a face, the technology could be used for virtually anything, from creating fake news to revenge porn.
What's Reddit's Stance on "Deepfakes"?
On Wednesday, Reddit updated its terms of use to more specifically ban "involuntary" pornography. Shortly thereafter, r/deepfakes was taken down.
"As of February 7, 2018, we have made two updates to our site-wide policy regarding involuntary pornography and sexual or suggestive content involving minors," Reddit said in a statement. "These policies were previously combined in a single rule; they will now be broken out into two distinct ones. Communities focused on this content and users who post such content will be banned from the site."
As the new technology that's spurring deepfakes shifts and evolves, platforms — like Pornhub and Gfycat — are evolving and moderating their actions along with it. Whether they can control the flow of deepfakes, which seem to be steadily spreading across the internet, is anyone's guess.
Editor's Note: As of 10:17 a.m. Eastern, 2/7/2018, this story has been updated with a statement from Pornhub.
Editor's Note: As of 10:19 a.m. Eastern, 2/8/2018, this story has been updated to show that Reddit has now banned r/deepfakes.