There's Magic on the Floor and Butterbeer at the Bar
Adult Harry Potter fans have created their own culture.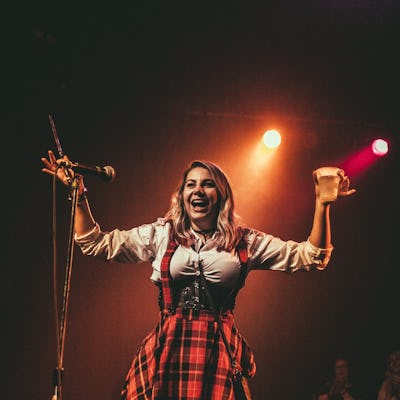 Wizard U Official
Five years ago, a group of friends came together for a birthday party that resulted in taking magic to the streets. The birth of Pottercon, an adult-oriented Harry Potter fan convention, has now morphed into Wizard U, which lets your inner 11-year-old go to a magical Hogwarts-style school a few decades late.
Hayley Milliman, a co-founder of Wizard U., and her friends decided to fill the gap for adult Potter fans, but running an unofficial magical school for adults is never as easy as it sounds. Besides, with the 20th anniversary of the series approaching, should adult Harry Potter fans finally hang up their robes?
This month, Wizard U. flew its traveling university to New York City for a convention at Irving Plaza, the famously intimate music venue in Manhattan. A line of enthusiastic wizards and witches wrapped around the block, waiting anxiously.
Wizard U.'s motto is "dedicated to providing late-blooming witches, wizards, and magical creatures an entertaining place to swish their wands and slur their spells." This means that millennials who are still waiting for their Hogwarts letter to arrive by Owl Post can still pretend they've entered the world of Harry Potter.
"What's the logical conclusion after you go to wizard school?" Hayley Milliman told Inverse. "You go to college. That's kind of where Wizard U. was born. All of us who didn't get to go to magic school when we were younger are now adults and having this whole different spin on that."
In the late Nineties, 13-year-old Potter nerds like Milliman were scouring fanfiction.net delving into alternate versions of Harry Potter. But, in 2000, when J.K. Rowling published the pivotal fourth Potter book, The Goblet of Fire, the fandom left the confines of the dial-up internet and exploded into the mainstream. When the very first midnight release parties for the book (not a video game, not a movie, not sneakers) made headlines, a community of Potterheads was born.
More than a thousand people showed up for Wizard U. — even if some were dragged along on a flying broom. "My wife made me come," several people told Inverse.
It was OK, though. Those who weren't there for the magic hit the bar.
On each floor of Irving Plaza, there are bars selling "buttery brews and fiery whiskeys," aka sweetened vodka or bourbon and spiced whiskey. The relation of Harry Potter cocktails to liquor manufacturers re-examining the alcoholic preferences of millennials might be unconfirmed, but at events like this, Potter devotees sipped on high-end cocktails that resembled — in spirit anyway — the bubbly butterscotch beer served at the Three Broomsticks pub in the wizarding village of Hogsmeade.
The kind of devoted fan you might find at the bar doing a shot of Wolfsbane Potion is Colleen Maher, a festival attendee who was drawn to the idea of an adults-only space after being let down by the Wizarding World of Harry Potter at Universal Studios in Orlando, Florida.
"It was a lot of children, and I had a great time, but the fact that [Wizard U.] was 21-plus and it was other people my age definitely was a draw," she said.
Unlike the annual Harry Potter festival in Chestnut Hill, Pennsylvania, where highlighted activities include hayrides and face painting, the Wizard U. team's creative process in planning these events is through conceptualizing events they themselves would want.
For example, Wizard Pong is the familiar college game, but with wizard rings and beer. There was also the Potterverse version of a palm reading: a frenetic Divination professor eager to seal your fate with a harrowing prediction of your future.
The convention is also an opportunity for cosplayers to unveil their creativity within the Potter fandom in ways they can't do at other conventions. Self-created costumes have grown exponentially at fan conventions, and as the Potterverse canon only continues to expand, so does the fandom's imagination. Milliman said she's even seen cosplay of deep-cut characters, like a woman dressed as the Trolley Witch complete with homemade candy.
During a time when many millennials' relationship with money is defined by a competitive market, the chance to engage in sorcery and enchantment for the day at only $17 a ticket was a refreshing change. Bigger conventions cost a lot more. For example, a day pass to LeakyCon in Dallas in August is $59, and it's completely sold out.
"We have so much respect for the conventions, so something like LeakyCon, which is such an amazing thing, is expensive to get to, " Milliman explained. "Plus, there's only one a year, it's far away." And, Milliman's Wizard U. isn't just about making money. A portion of the profit from ticket proceeds will go toward a charity of the fans' choice.
J.K. Rowling might think you should "put your wands down" and be a grown-up by now. Her final epilogue in the last Potter book depicts the main characters in their mid-30s and sending their own children off to Hogwarts. But that hasn't stopped her target age demographic, now also in their mid to late 20s and 30s, from celebrating the books as if they were still 17, or even younger.
"I feel like [my relationship with Harry Potter] should have changed because I've grown, but it's still the childhood magic, and no matter how many times people point out the discrepancies and flaws of Harry Potter, it doesn't matter. It's great and perfect in every way," said Maher. Most fans of the book literally grew up with Harry, from his awkward adolescence at age 11 to his angsty teen years, making the series feel like a string of childhood memories they'll not soon forget.
Milliman realizes the fans, some of whom have been following Harry's story since the Nineties, are a focal point in making these events come to life.
"The biggest thing for us is for fans, by fans. We're huge fans of so many different things; we love them so dearly, and we know everybody who's coming loves these experiences and canons so much that we really want to honor that."