A Library Came Up with an Ingenious Way to Help Patrons Find Books
"I don't remember the title, but the cover was red."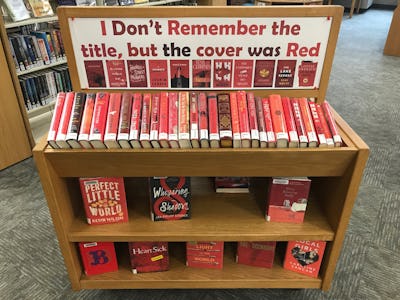 @FramPub/Twitter
Librarians deal with a unique set of occupational challenges. Paper cuts, strained eyes, and carpal tunnel syndrome are just the tip of the iceberg. Perhaps one of the most onerous obstacles faced by librarians worldwide is a patron who wants a particular book, but doesn't remember the title.
Thankfully, institutions like the Framingham Public Library in Framingham, Massachusetts are up to the task. A picture of its book-finding lifehack went viral on Sunday, with more than 38,000 retweets at time of writing. On Reddit, the photo has more than 61,000 upvotes with all sorts of people offering their memories, including one ode to a bookstore employee who helped a customer find a book.
"Working at a library, we get people a lot of times who say, 'I don't remember the title, but the cover that I saw at Barnes and Noble had this kind of color to it,'" Carrie Lyn-Woodsum, assistant librarian at Framingham Public Library tells Inverse. "Probably 95 percent of the time, maybe 98 percent we figure it out."
Move over Batman; librarians might be the world's greatest detectives.
Judging by the public reception, aloof book seekers are everywhere. Librarians and booksellers commiserated about the display on Twitter in kind, sharing their own sleuthing stories.
The library even released its own good-humored statement as the tweet was going viral. "Admit it, we've all asked this question at one point or another," it said.
The Framingham Public Library staff has created similar displays before, but this is the first one to garner widespread attention. According to Woodsum, the Valentine-inspired display has been a bright spot in a gray, New England winter.
Woodsum says the library changes up their display every month, but now they've set a high bar. "We're having our display committee meeting today," Woodsum said. "So we'll have to brainstorm and come up with something we can top ourselves with."