Why Elon Musk Is Going to Have a Crazy Week
The Tesla and SpaceX CEO has a lot on his plate.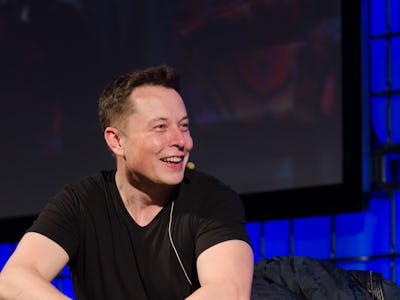 Heisenberg Media
Elon Musk is about to have one of the biggest weeks of his life. Two of his major ventures, Tesla and SpaceX, are about to hit major milestones that could chart their course for the near future. Musk will have to show that his electric car offerings are a hit, while also sending the world's largest rocket into space. It was never going to be easy.
Musk's Massive Rocket
The first major challenge will be Tuesday, when the SpaceX Falcon Heavy lifts off for the first time. This is no ordinary rocket: with three Falcon 9 engine cores, 27 Merlin engines, and five million pounds of thrust, the Falcon Heavy is billed by SpaceX as the "most powerful rocket in the world." The launch window is set to open at 1:30 p.m. Eastern time and close two-and-a-half hours later, with the event taking place at launchpad 39A at the Kennedy Space Center in Cape Canaveral, Florida. The Falcon Heavy will blast a red Tesla Roadster into space, with the in-car sound system playing David Bowie's "Space Oddity" on loop.
So far, the launch has come together well. The Federal Aviation Administration, the authority that regulates non-military air travel, gave the firm its launch license on Friday. The U.S. Air Force's 45th Weather Squadron is also forecasting an 80 percent chance that conditions will be favorable.
If Musk pulls it off, it will spell good news for plans to transport cargo to Mars in 2022, ready for a manned mission just two years later. The pressure is on, though, and Musk has expressed doubts before that all will go to plan.
Tesla's Massive Quarter
On Wednesday, Musk will have a slightly less explosive day as Tesla releases its earnings results for the fourth quarter of 2017, alongside its full year report. At 2:30 p.m. Pacific time, Musk and his team will field questions from investors and analysts. It's make or break time as the company summarizes its attempts to move from luxury automaker to a more mainstream brand.
Tesla is still working through getting Model 3 production up to speed after its summer 2017 launch. The company's $35,000 car has a far lower starting price tag than any vehicle in its lineup. The "production hell" stage, as Musk referred to it at the car's launch in July, was always going to be tough. However, Tesla projected a rapid acceleration in production rates, moving from 100 cars per month in August to 20,000 per month in December. The company missed these goals, producing 2,425 Model 3s in the entire fourth quarter, far below expectations.
Investors will want to know if Musk can pull back from the manufacturing brink and deliver on Tesla's promises. If Model 3 production looks like it's in trouble, it could shake confidence in the Semi electric truck and second-generation Roadster projected to hit the roads in the next few years. To achieve his vision of an electric vehicle future, he needs all the support he can get.