HQ Trivia Will Hold a Super Bowl Halftime Show of Record Proportions
It's the biggest prize pot ever.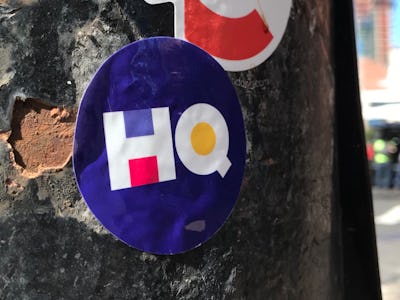 HQ
On Saturday, HQ announced it would give the Super Bowl halftime show some considerable competition among the million or so people who dutifully slide right on their push notifications to play the mobile trivia game — ensuring their phone is fully charged and they are connected to wifi, as the app routinely reminds its players ahead of each game.
Fill-in host Sarah Pribis informed players during the Saturday night game that winners of Sunday night's HQ would split $20,000 if they answered all 15 questions correctly. It will be the biggest prize split among winners of the game yet.
The HQ app states the game on Sunday at halftime of the Super Bowl. It's not clear if regular host Scott Rogowsky, known as "Quiz Daddy" by players — he calls them "HQties" — will host the Sunday night show, but it seems very likely:
The prize pot has steadily grown along with the game's popularity. Lately, HQ players go through a 12-question game, and the winners split around $2,000. Games are held every night at 9 p.m. as well as 3 p.m. every weekday.
HQ's ballooning popularity seems to stem from the fact that you have to play it live, creating a collective experience. On a dramatically smaller scale, HQ seems to do to the culture what the Super Bowl does every February: Create water cooler moments, an increasingly rare treat in a world where most entertainment is available on-demand and media has infinite segmentation.
Pribis pitched the oversized Sunday game this way: It will be "way better than the game-game, in my opinion, and if your team's losing, money can buy happiness."
[Download: HQ on iTunes|HQ on Android]
HQ launched in July, when a few hundred players would vie for about $100. In addition to dramatic growth since then, it's also seen its share of controversy over its volatile CEO. And this past week, some players were calling to boycott it, after news came out that it would receive investments from Peter Thiel's Founders Fund. (#DeleteHQ was the rally cry.) Recode reported that HQ is valued at $100 million, with Thiel's venture capital firm leading the way on the most recent $15 million funding round from various investors.
HQ Cheaters
And then there are its cheaters. Rogowsky has been known to call out some players who win four consecutive games in a row. Perhaps it's lightning-fast Googling, or a tag-team arrangement, but cheating at HQ has crept in, as the game has become more popular. As a result, each increasingly difficult question is less Google-friendly. Sites like HQ Hack, which shows probable answers in real-time, have popped up, too. HQ Hack uses a bot that Googles the question and presents a likely answer based on the search results. "It uses AI to predict the right answers," is the suggested tweet text posted on the HQ Hack website.
"We don't consider Google cheating, necessarily," Rogowsky told the Wall Street Journal a few weeks ago. "If you are an adept Googler and you can Google the answer within 10 seconds, then perhaps you deserve to win as well."
HQ's Super Bowl Bet Could Pay Off
HQ might have its biggest night in terms of players on Sunday. It's seen well over 1 million players on previous nights in January, and it's likely first-time sign-ups will soar during halftime, as Justin Timberlake does some sort of Prince tribute. Those first-time sign-ups could be converted into regular players, as so many before also became hooked. Just make sure your phone is connected to wifi and your batteries are charged.
Now watch: This HQ Hack Allows Users To Get Free Extra Lives